Do you have kids?
Do you have a car? Minivan?
Then you NEEEEEEEEEEED to bid on this next auction for La Tienda ….
First – Have you been following what's going on with La Tienda? If not, you can click here and that will fill you in. If you have, well, then you're up to speed and you're probably wondering when the next auction is going to happen. Well, it's here and it's your lucky day!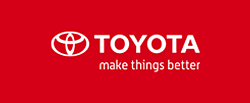 Hallmark Toyota in Orangeville is offering you that new car smell again …! You heard me right … when is the last time your car smelled good? Bid on today's auction item and you will have that wonderful scent at the tip of your nose all over again … yeah, baby!
Hallmark Toyota is donated a Premium Touch Cleaning and Detailing Service up for the La Tienda blog auctions. Yeeeehawww! Fabulous!! I'm so excited about this auction because, well, as a mom, let's face  it, the car is NASTY and I will be bidding on this myself!
The Premium package includes:
– complete meticulous hand washing/drying of the vehicle exterior, including the door and trunk openings
– detailed interior cleaning including vacuuming of seats, carpets and floor mats
-deodorizing of the passenger compartment
-detailed inspection report of the vehicle's interior and exterior
– power washing of wheels, inner fender and undercarriage
– vacuuming of trunk
-shampooing of floor mats and spot shampooing of stains
-two step paint restoration process to eliminate minor paint imperfections and restore factory paint finish luster. Includes machine polishing and Toyota paint finish sealment
– treatment of interior and exterior rubber and vinyl trim
– lubrication of locks and hinges 
To place a bid on this amazing auction item, click HERE ….. 
Do you know what the best part is? 
100% of the money raised in this auction goes STRAIGHT to help out the work of La Tienda. How awesome is that?! A big thank you to Hallmark Toyota for being so generous! I love Orangeville!
Only three weeks till Tamara and I leave for La Tienda! So exciting!!!!!!!