With the sunshine on our face and cheerful hearts, we walked, some ran, down the muddy, pot-hole laden driveway to our destination of the back shed … where we would be planting seedlings as a celebration of the spring like weather.
Finally, it was nice enough to be outside, donned with a light sweater and must-have rubber boots , instead of seventeen thousand layers of wool and winter wear that we've had to wear since November of last year …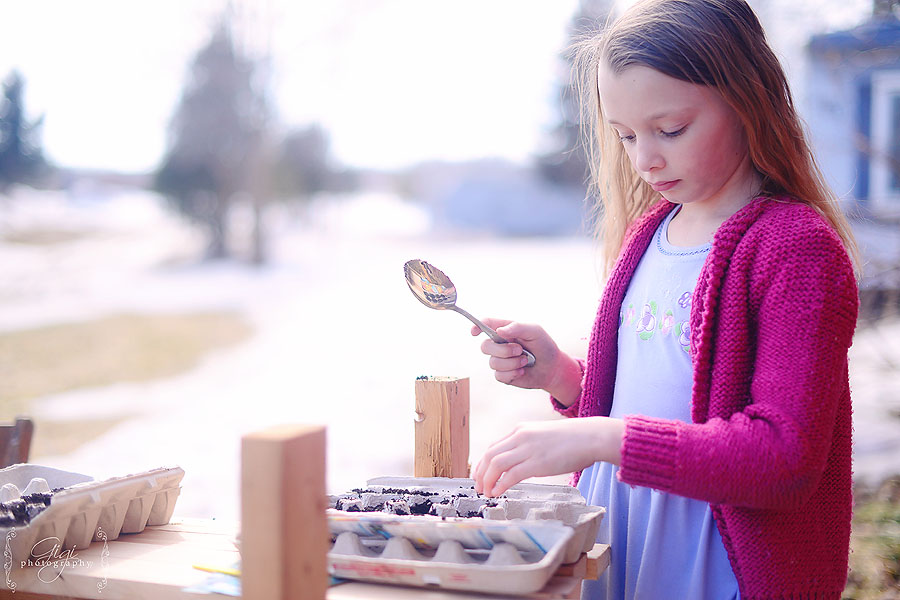 The sunshine was warm on my sore, pregnant body … my aching legs worked hard to keep in time with the children … but I knew this well-overdue sunny day needed to be spent outdoors together … so I trudged on, seed packets in hand and toddler's little grip in another … and some excited, sweet little girls racing ahead, ready to help me plant our seedlings.
Does it ever feel like you're so tired you can't move another step? That's how I feel these days in the last bit of this pregnancy – so physically tired … over the past few weeks as the contractions start becoming stronger and my body wears easily, I have found it discouraging, hard to manage and keep up with everything that needs to be done …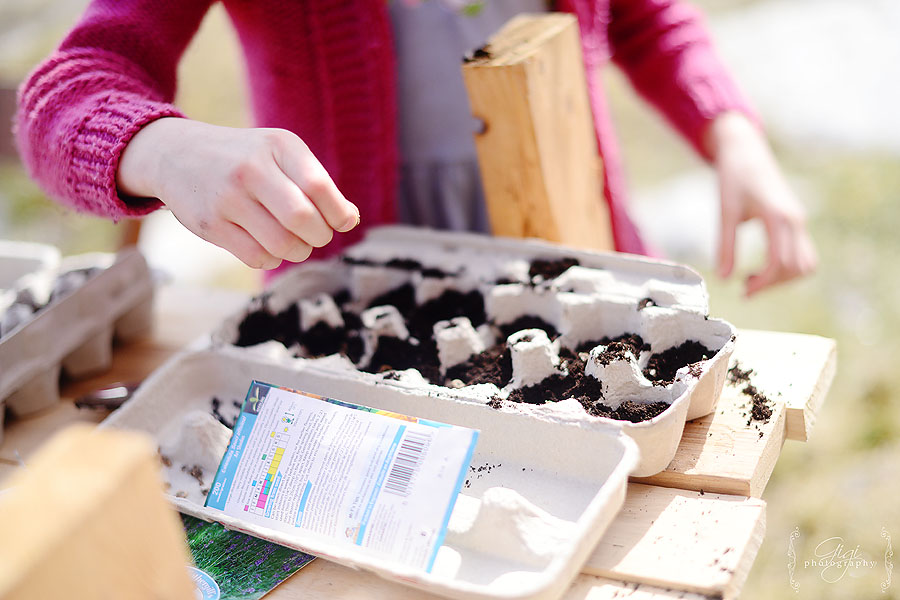 … We lined up the seeds and figured out who was planting what … rosy cheeks and happy hearts that spring had finally arrived in Ontario … despite being tired, it was so wonderful to be outside and breathing in fresh, crisp air …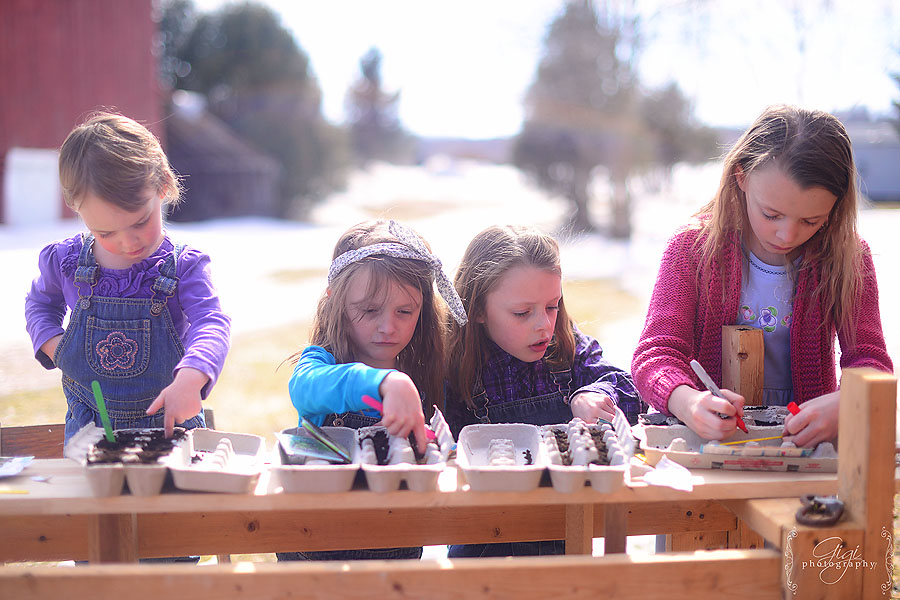 In the background of my thoughts, I could see the list of projects that will accumulate with the coming of spring …  the warmer weather will bring a to-do list miles long for my husband and I, seeing as this is our first spring at the old farmhouse, not to mention the addition of chicks and ducks coming in a few weeks and a BABY joining our family, as well … what an exciting, but full, spring ahead of us …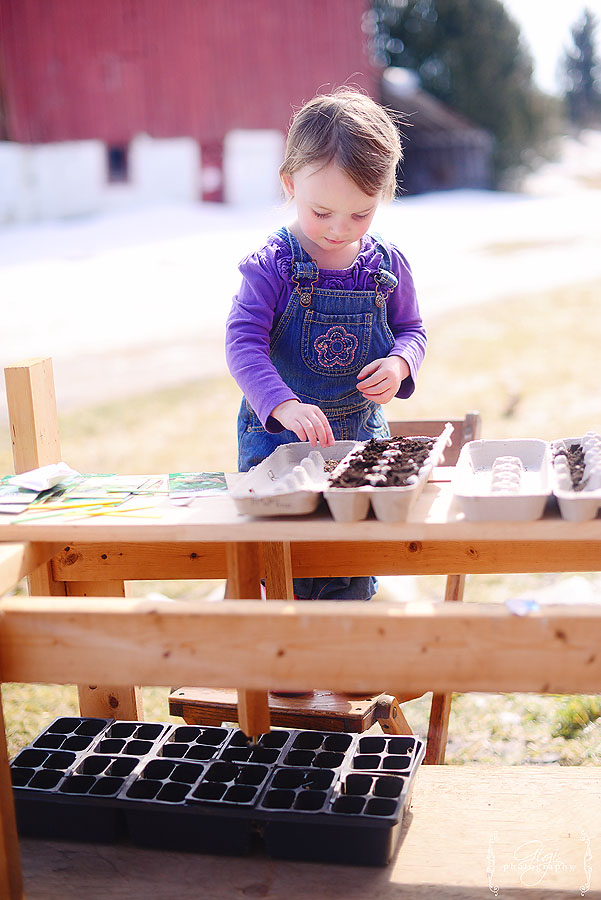 And yet as I tackle another chore or project on my list of what must be done before baby arrives, and I feel the need to complain or feel over tired and exhausted, my mind wanders to others who have been in far more challenging scenarios …
Together the girls and I have read through many of the Little House books and each time, I am in awe of the workload the pioneers had to manage just to stay alive.
We have it so easy. Very easy. We have no right to complain in most circumstances. We have running water. We have food in the freezer and food accessible if needed at the grocery store. We have firewood to burn to keep us warm on the chilly nights and flour with which to bake bread.
So yes, I'm tired … there are meals to make and schooling to be taught … and yes, I'm waddling about and pregnant and exhausted on my feet … but truly … this life, this easy 2014-technology-laced, jump-in-your-car-if-you-need-to, turn the switch on the laundry machine-and-voila-clean-clothes – it's all so much easier than what  our pioneering heroes and generations of old faced.
After reading this blog entry, it really put some things into perspective for me …
"The day & night before school started in 1901,
I worked one hundred buttonholes and sewed on one hundred buttons,
trying to finish up the children's school clothes.
I was still sewing at dawn. I milked the cows and fixed breakfast.
I worked all morning about the house and cooked dinner.
Then that afternoon I gave birth to my tenth child."
Journal entry of Martha Lindsey, 1901
Wow …. and we think we are tired?
… okay, so my husband is working late night after night … and my feet are sore and my bones are aching … bread needs baking and school books need reading … but truly, I still have life so much easier than many … my mind is constantly being reminded of the blessings of my life … if we focus on the negative, that's what we'll see. Therefore, focusing on the good and the blessings and the gifts from God … that will be our encouragement! That is where we will draw our strength!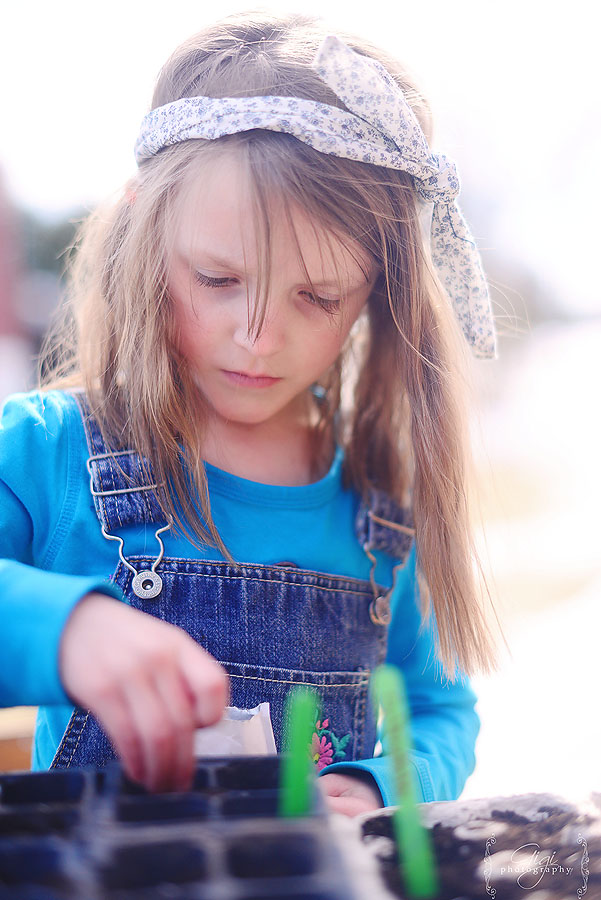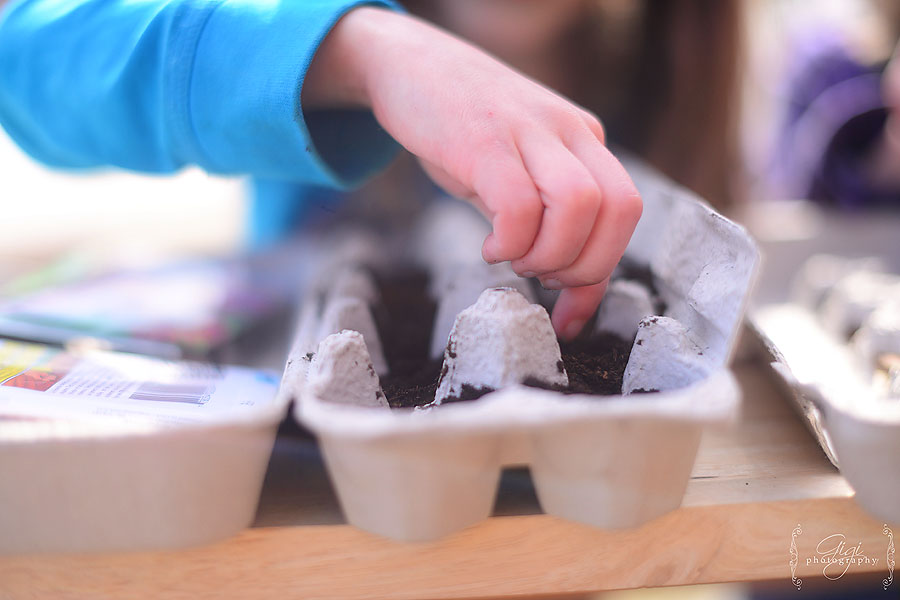 I think it's time for less complaining (even if it is done silently in our hearts and no one can hear you) and time for more gratefulness and gratitude for all He has given us.
After all – when's the last time I stayed up till dawn sewing on 100 buttons for nine children and then went into labour?
The joy of the Lord is my strength.
Nehemiah 8:10