**Just a quick note for clients: if you are curious about the status of your orders, Heather, my beautiful friend and helper who also JUST had a baby herself (she's amazing!), has been working diligently getting all the orders placed over the past two weeks and we will be packaging up and mailing out orders shortly … we are working our little bums off over here to ensure you get everything in due time! Thank you for your patience! Please anticipate a bit of  delay as having a baby, labour, sleepless nights, nursing, four little kids, etc. does take a lot of my energy right now … 😉 …but we have NOT forgotten about you …!

Because of how lovely and precious and AMAZING this time is with a newborn in the house again, I will not be booking any sessions until after Christmas. I LOVE taking December off with my family and enjoying the Christmas season- and that is one of the amazing benefits of this job. I feel so blessed to be able to focus on my kids and my family during the holiday season – there's nothing like it! The years and days go by so quickly – I just want to cherish all those moments!!
I will post a notice when I'm able to book sessions again – 🙂  Thank you for your patience!!*
I'm sitting here in my kitchen, listening to the quiet of the house. the only noise I can hear is the sound of the kitchen clock ticking away, the humming of the fridge and the gentle sweet squeaks from Lovelyn, who is snuggled up against my chest in a wrap. (I love baby wearing!) Abby has taken the other three girls to piano lessons and I have 1/2 an hour of this peaceful quiet.
Life has been amazingly FULL and blessed over the past two weeks. Amazingly busy but lovely. Things are starting to settle down now and we're getting back into a regular routine of homeschooling, piano lessons, and life in general. I'm slowly becoming a bit more tired each day 🙂 but am also remembering how *short* this time is in the newborn stage and honestly do not wish it away in exchange for more restful nights and energetic days.
Since Lovelyn was born, I've been thinking a lot about parenting … about mothering. About what it means to raise our little kids. To nurture and direct these amazing little lives. I'm doing a study with a great group fo ladies right now on the Power of Motherhood. One thing we discussed at our last get-together was how our children are little mirrors of ourselves. So if there is something you want changed in your kids, you better change it first in you!
I don't know about you, but one thing I need to change the most is patience. Especially now as I am entering the newborn-tired-exhausted-but-must-keep-on-foggy-phase. All you moms out there know what I'm talking about, right? [Please tell me you do.]
I ask my girls to be patient with each other all the time. I ask them to share. I tell them they need to wait their turns and not speak mean words and to love each other.
And I too need to work on my own life in similar areas. How it never struck me before that our children mimic our own lives is beyond me … what a simple truth! Hyper parents have energetic kids. Calm, reserved parents usually have calm kids. Artistic parents often produce children who love to paint and dance and create.
Likewise, the negative characteristics of our personalities are reflected in our children.
Want to know what you need to work on? Study your own child and you'll soon find out!

"Don't worry that children never listen to you;
worry that they are always watching you."
~Robert Fulghum
I managed to get the girls ready for a brief photo session in the studio yesterday. They were great listeners (yay!) and are definitely pros at holding their little sister. [This is something I have to watch as my 4 year old has shown me she certainly knows how to take Lovelyn out of the car seat and carry her across the room to the swing. I nearly died!]
This is my Christmas present, friends. Seriously. I am getting this on canvas and will treasure it FOR-EVER. and EVER. and EVER…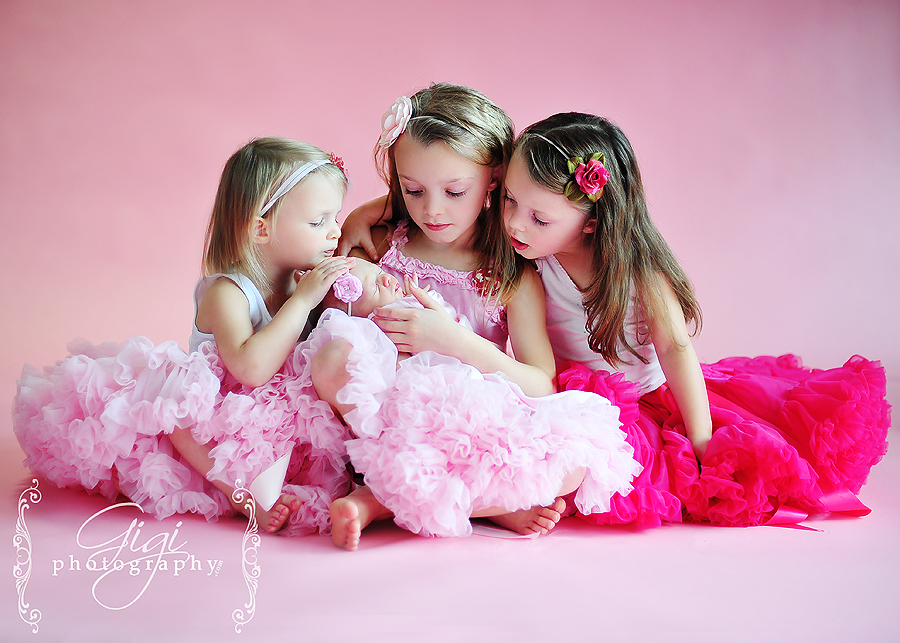 Lovelyn is two weeks old today!!!! I love that she has been in our life for two weeks (well, really, 10 months!) and we KNOW our family would not be complete without her.
She's still an itty bitty 4 lbs 9 oz – she's a pleasure to hold – like holding a little toy doll in your arms ….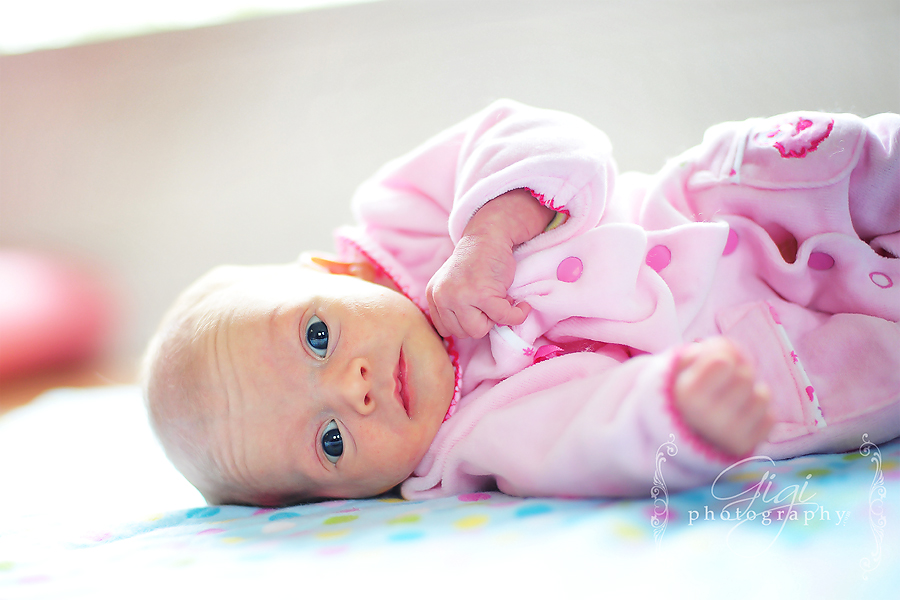 tired after her photo shoot with her sisters ….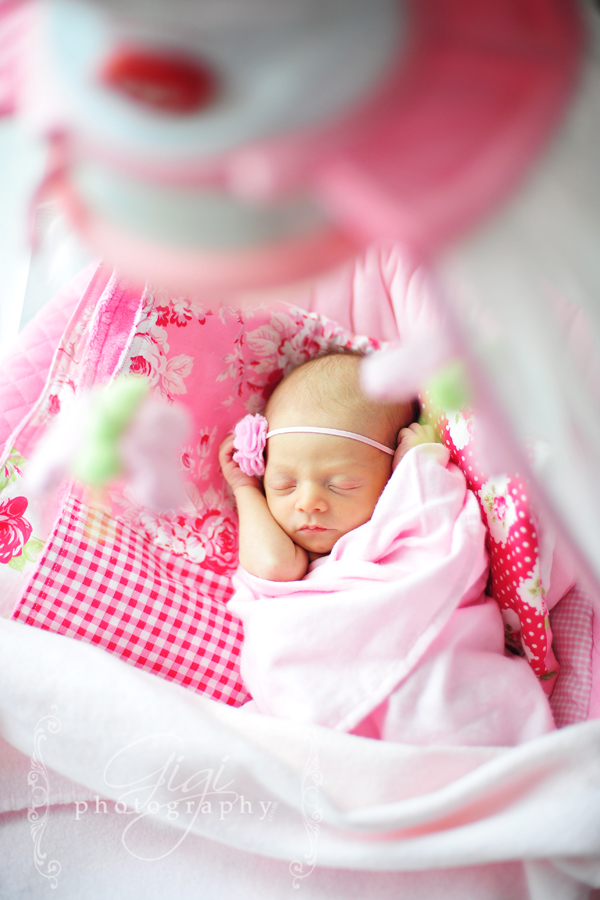 P.S. I am thinking of painting the studio pink – what do you think? Is that too much? Think shabby chic. 😉