This week, my husband committed the unforgivable sin. 
We were getting ready in the bathroom  when I caught a glimpse of myself in the long-wall-covering-mirror that mocks me each morning. 18 weeks so far in this pregnancy and feeling pretty good. Except … I noticed … something looked bigger … no, not my belly … the dreaded backside. My rear end. My caboose. I turned, looked and rotated some more. 
"Ab, I feel like my bum is getting bigger …," I said, pulling my dress out from my form to see it made a difference. Looking up to my wonderful, considerate hubby, I asked the dreaded question.
"Is it  getting bigger??????"
My sweet, beautiful husband of nearly 8 years very casually shrugged his shoulders and kept on shaving and said, "Well, it does get bigger with each pregnancy."
SERIOUSLY?!
SERIOUSLY?!??!??!
Seriously. My jaw dropped. Does HE NOT KNOW those WORDS are NEVER to be spoken to a woman, much less a pregnant woman?!
What does one say to such a statement?
How was I supposed to react?
"Thank you, hunny, for that honest opinion," with a kiss on his cheek?
I think not.
But what you can you do (besides not eat that lovely cinnamon bun I just ate)? I'm pregnant. And things get bigger when you're pregnant.
Needless to say, belly is getting bigger too … I got hubby to take this photo last Sunday – um, BEFORE the big-bum comment. I probably wouldn't have been smiling if I knew he was going to say such a thing.
But here we are – baby and I at 18 weeks.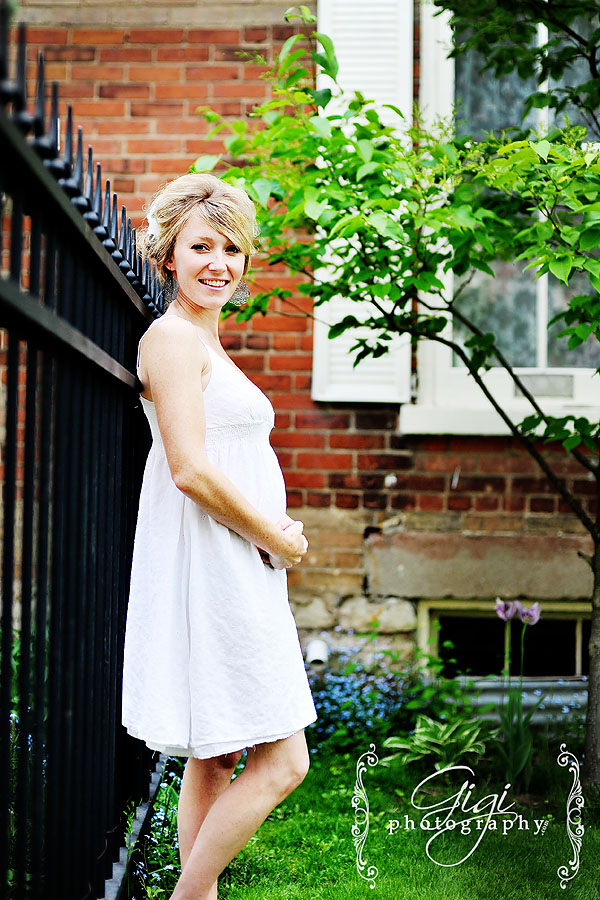 And if you were sick during your pregnancies, you might not want to read this next part.  I'm sorry to all of you who had morning sickness throughout your entire pregnancy … I'm not trying to gloat  or rub it in… but I feel great! But, I am SO thankful for this! It would stink to be sick while running after three other kids and trying to manage a household and your own business. 
We also had our first ultrasound this week. I know, what? First?  I missed booking the first appointment. How sad is that? But we managed to make it to this appointment, complete with sloshing, overly-full bladder and a grimace on my face as the ultrasound technician poked and prodded with her magic wand to see our little peanut growing inside. 
Ahhhhhh …. the ultrasound. That first magical sneak peek into your future …. the first piece of Heavenly reality that your baby is growing well and healthy and kicking away safely tucked inside the womb. It gets me every time. It doesn't matter what number of pregnancies … each time is spectacular. Hearing the heartbeat – so strong and steady – and seeing the baby suck his or her thumb or roll about … it's all so amazing and absolutely delightful!
Unfortunately, it wasn't the best scan ever – according the technician. Baby wasn't co-operating that much and she said she might need to see me again, but I think everything was okay … 
And no, no gender sneak peeks for us! I kinda waited, seeing if the technician would say "he" or "she"  … but she didn't hint towards either sex … and at the end, she actually said she couldn't tell either way … so what does that mean, guys?! Boy? Girl?! Hubby is so sure this is another girl. I'm …… hmmmm … not so sure … I really have no feeling one way or another (but I didn't have that "feeling" with any of the babies so far). 
So even though the scan wasn't the best, here's baby's first photo (alien looking and all):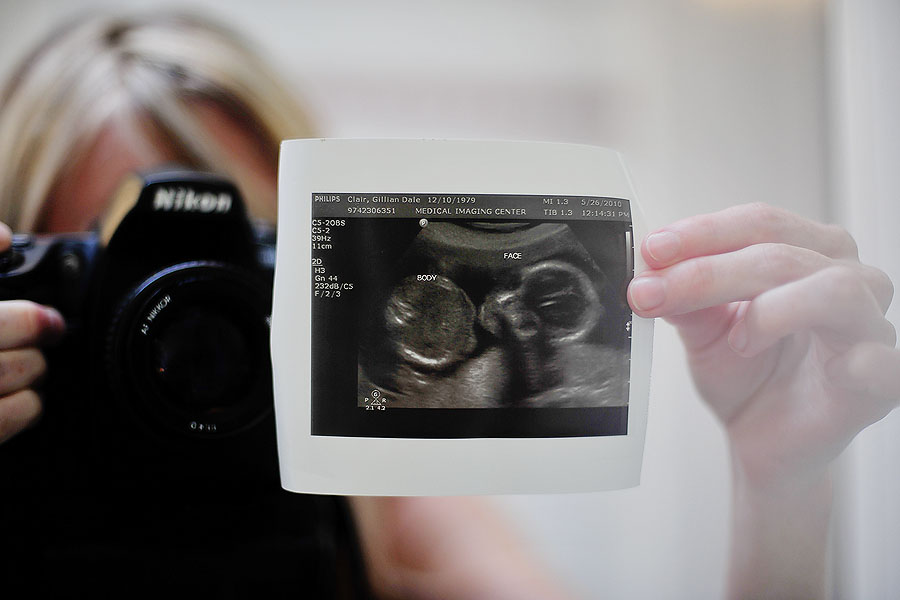 Now for some name suggestions …. if we have a girl, we're sticking with the Ls … I have my heart set on a name for a little girl already but I am open to suggestions!
Boy? Well, that's another story. I like Leo, but hubby isn't so sure. We both like Sterling. What do you suggest? We're not stuck on the Ls if its a boy (so limiting!)…. I'd love to hear your suggestions!