"When the girl returned, some hours later, she carried a tray,
with a cup of fragrant tea steaming on it;
and a plate piled up with very hot buttered toast,
cut thick, very brown on both sides, with the butter running through the holes in great golden drops, like honey from the honeycomb.
The smell of that buttered toast simply talked to Toad,
and with no uncertain voice; talked of warm kitchens,
of breakfasts on bright frosty mornings,
of cosy parlour firesides on winter evenings, when one's ramble was over and slippered feet were propped on the fender,
of the purring of contented cats, and the twitter of sleepy canaries."
― Kenneth Grahame, The Wind in the Willows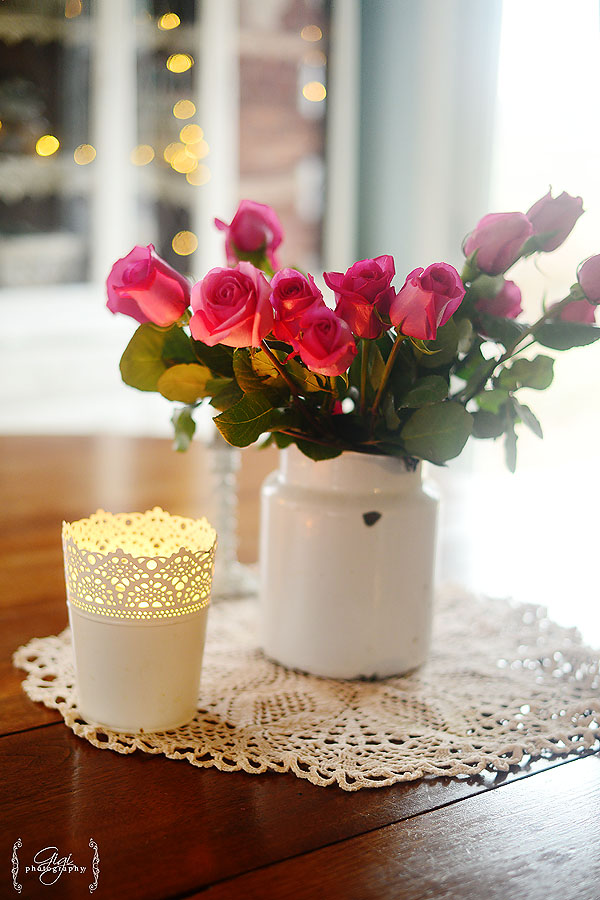 It's December, however, all our pretty, glittering snow has melted – we are left with fading green grass, showcasing it's glory of summer days gone past, empty branched trees, lonely for a snowy covering and early, creeping darkness  that always make us want to cuddle up into bed just a few hours earlier… to combat the loss of winter's beauty and delightful snow, we're lighting a lot of candles, twinkle lights are glowing and hot fires are keeping us toasty warm.
While the outside world goes a bit crazy and stressful right now, this is a season of quiet for us —  and it is absolutely lovely. All summer, we work so hard outside, in the gardens, with the animals, on the grounds, but now it is a time of rest and refreshment. I am quite delighted to enjoy a cozy, quiet winter for a few months. I will be ready for spring when it arrives but in the meantime, I will fully enjoy the months of wintertime that are upon us.
Sometimes we feel like little Brambly hedge mice, or the little animal friends in Wind in the Willows … in our snug and busy nests and homes, fixing this up and doing that, finding ways to cook up food differently, filling the house with savory smells, crafting and spending time relaxing … reading good books by the fire and learning new music … it is a lovely season of Home.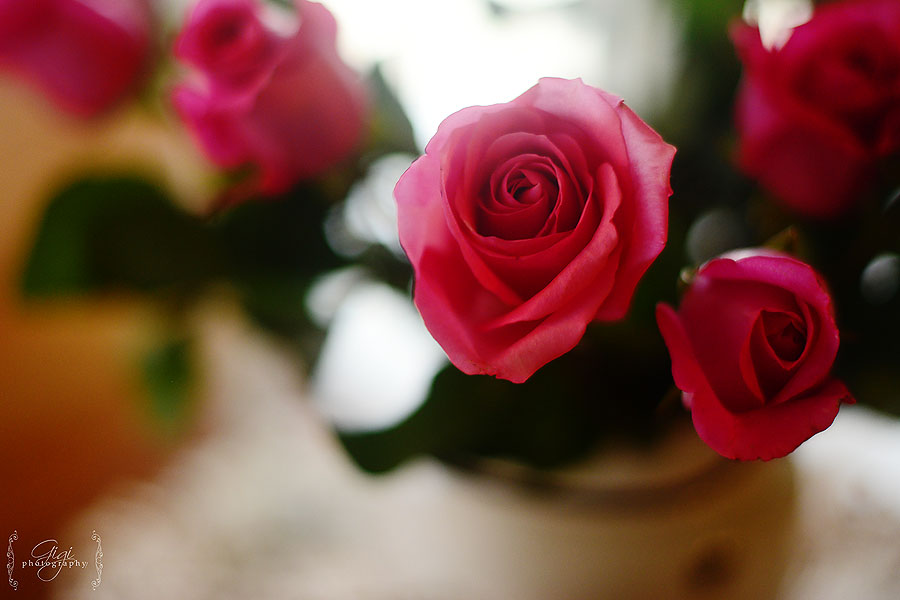 For this week's gentle Home adventure, I decided to make Rose Petal Jelly. Doesn't that just sound lovely?
Well, it is – it tastes so light and delicate. I cannot wait to try it on buttered toast with tea. Is there anything more lovely than toast and tea on a winter morning – or afternoon, for that matter? Perhaps there will be a light sprinkling of snow outside and that will just be the icing on the day, in a way.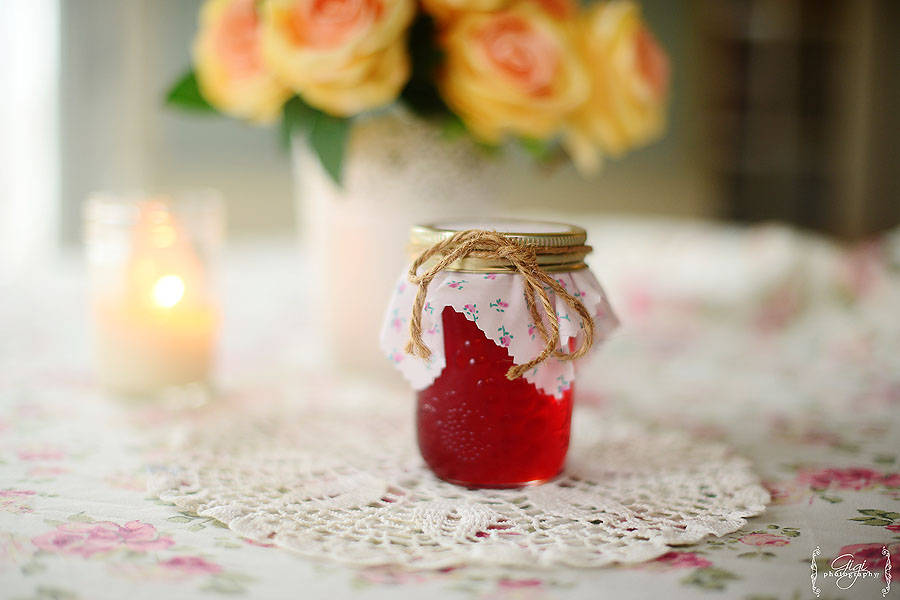 First, you will need to steep some lovely (un-sprayed) rose petals in hot water for overnight. Once it is steeped, strain out the petals and store your rosewater in a jar in the fridge or a cool location.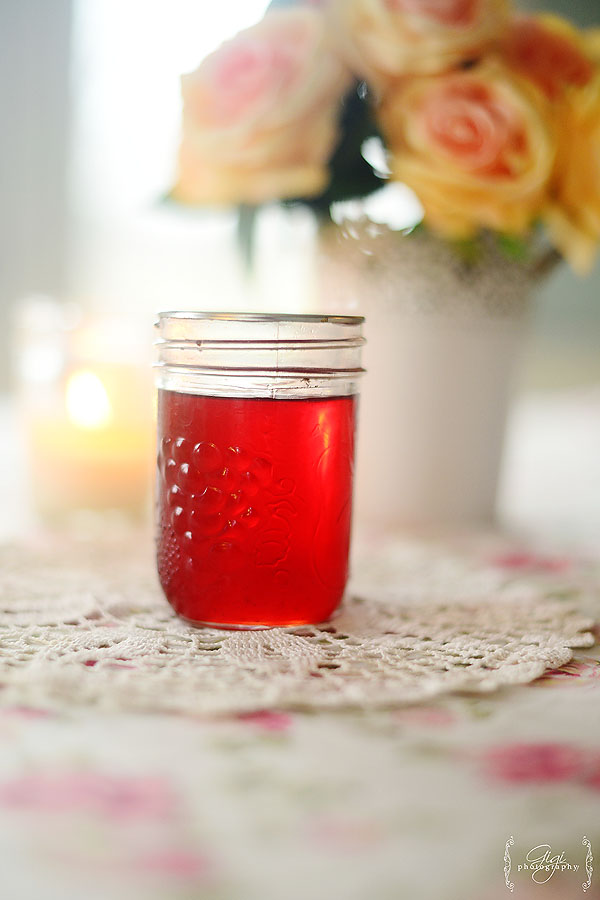 If you use pink petals, it will be a lighter colour jelly – I had red petals on hand and it created the prettiest, ruby red colour.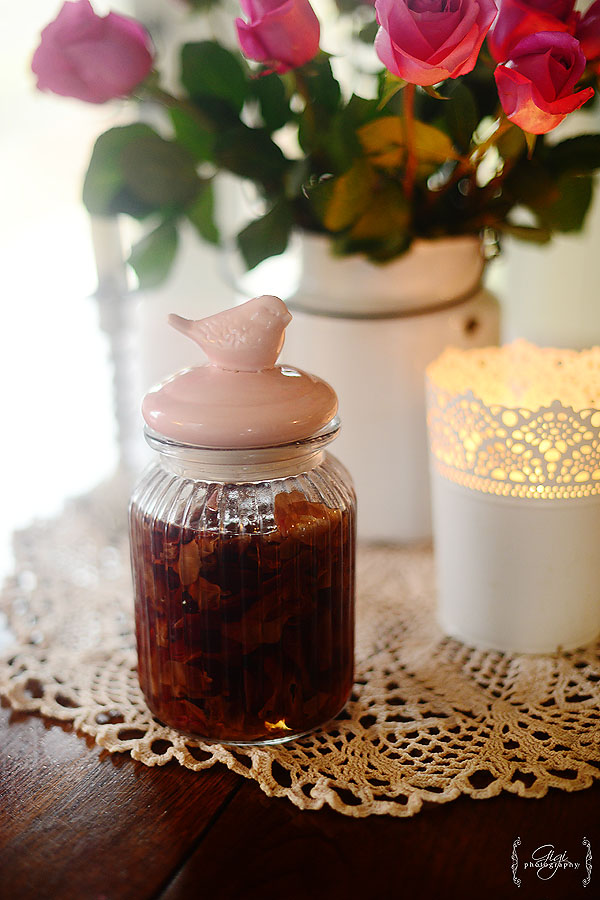 Once you have made your rosewater, you are ready to make your Rose Petal Jelly.
(Make sure to save any extra rosewater – I also made a rosewater toner for my daughter and I – just mix equal parts witch hazel with your rose water and store in dainty glass jar, preferably in the fridge. It will not last forever as it is a natural product).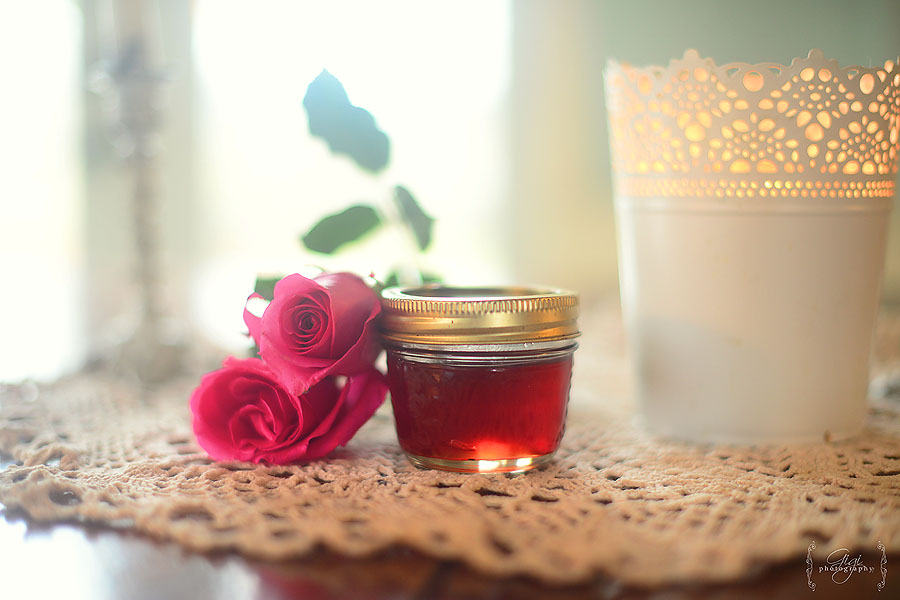 ~ Rose Petal Jelly ~
Four cups of rosewater
6 cups of sugar
2 tablespoons of lemon juice
Pectin
Pour your strained rosewater and sugar into a large pot. Bring to a boil – let it boil for three minutes or so. Add in your pectin while stirring constantly. [The recipe calls for two package of pectin but I only had one – I use one and while it is a bit runny, it is still lovely.] You may stop here and do a spoon test to see if the jelly is firm enough (drop a tiny drop onto a cold, metal spoon and run your finger through the jelly – it is stays separated, it is ready).
Pour into clean mason jars.
Wipe rims, lid with new seals and process in water bath for 20 minutes.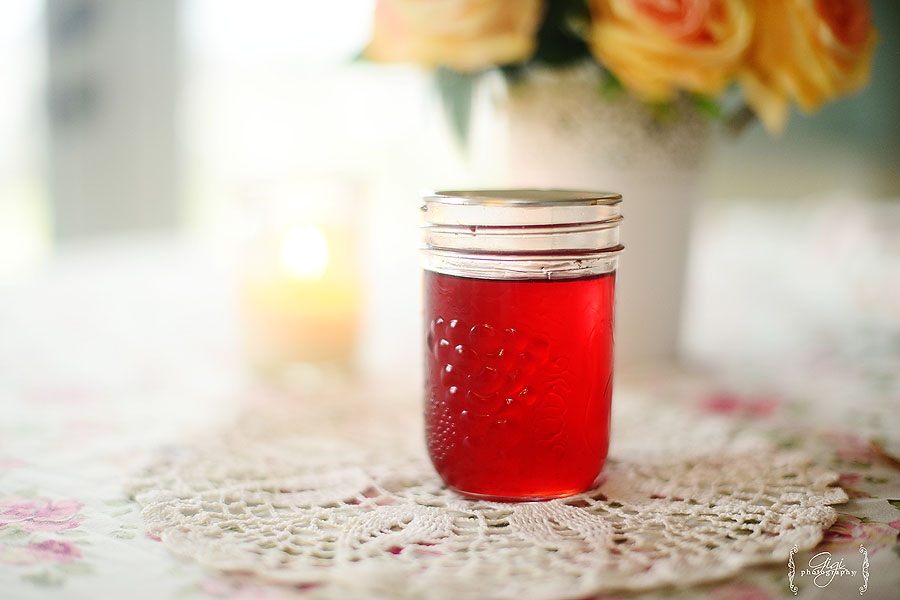 It will make wonderful gifts!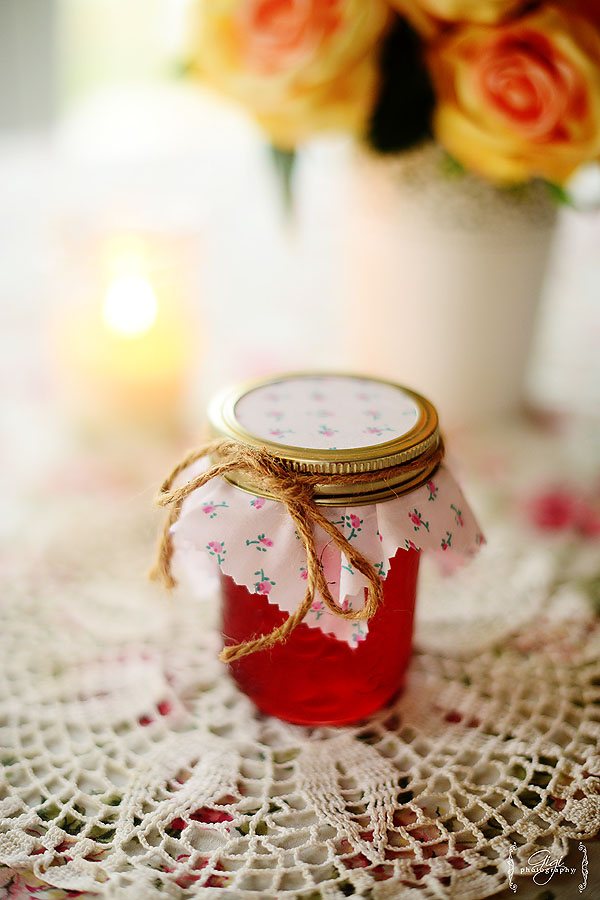 Please, do yourself a favour and bake up a few loaves of homemade bread … then, with the delicious aroma of just-baked bread wafting through your kitchen, enjoy this lovely rose petal jelly slathered with a piece of buttered toast for your afternoon tea break.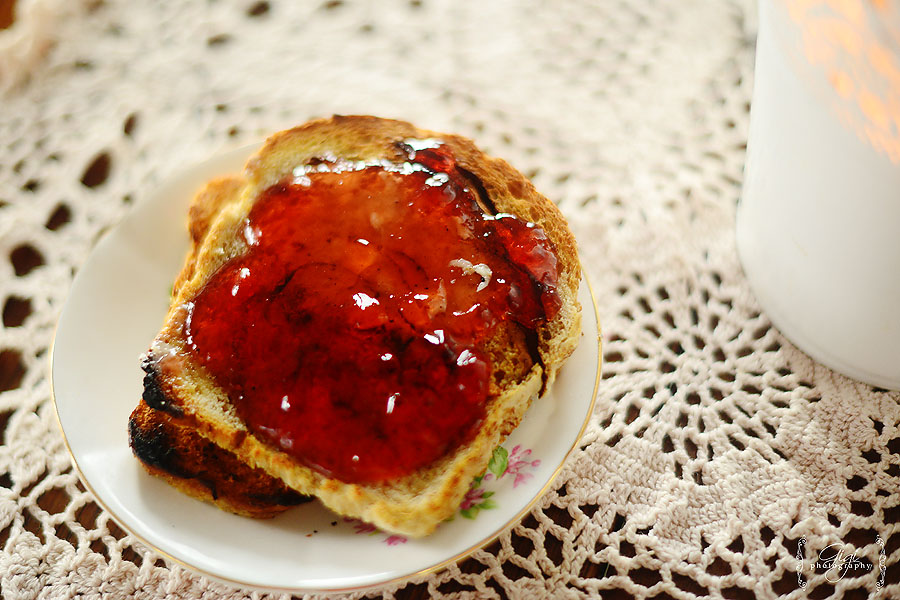 It will do your heart wonders on a chilly winter afternoon.