Okay … as promised … by Friday, I would pick a winner of the super, cute giveaway hosted by ChildISH …
So grateful for such an awesome giveaway! If you are (eeek!) already thinking of school and the fall, now is a great time to check out this AMAZING Canadian business to see what kinda of adorable, personalized lunchkits are available for your kids.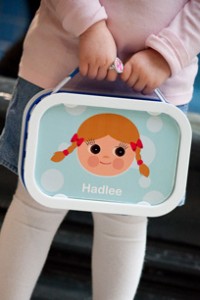 Using random.org – the winner of a personalized plate set from ChildISH is:
#44 – Alesha – who wrote: "Great Idea!!!"
Congratulations, Alesha! E-mail ChildISH right away to claim your prize! (Don't delay – so we can place your order this upcoming week and you will not miss the shipment.)
______________________________________________
"But there is a river in the country where you have gone,  is there not?
A river with trees growing all along it – evergreen trees –
and somewhere by those shady banks, within sound of clear running waters,
I think you will dreaming, waiting for your boy…"
~ Little Rivers/Henry Van Dyke
Just a quick one from a super sweet session lately … this amazing tent is handmade by Twill & Twine – you have to check out her facebook group. So lovely and adorable! Her giveaway is coming up so stay tuned!