"Still, in mild climates or seasons, the idea of
          seedlings and cuttings will begin to stir our souls, when February
             "fills dike," if it is "with black and not with white."
           So I will just say that for a Little Garden, and a
       mixed garden, demanding patches, not scores of things, you can raise a
         wonderfully sufficient number of half-hardy things in an ordinary
        room, with one or two bell-glasses to give the moist atmosphere in
       which sitting-rooms are wanting. A common tumbler will cover a dozen
       "seedlings," and there you have two nice little clumps of half-a-dozen
                         plants each, when they are put out."
-Letters from A Little Garden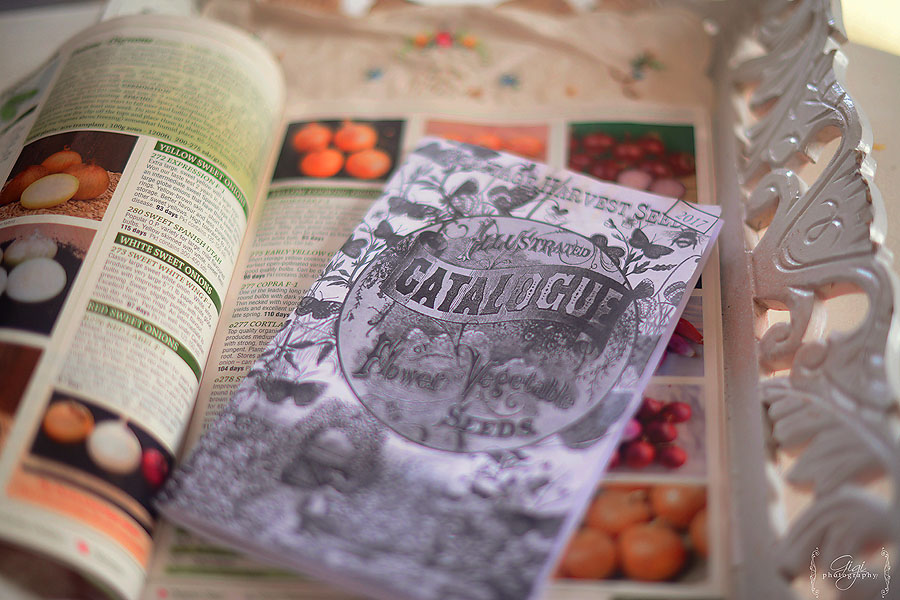 The little old fashioned radio sang out with some lovely afternoon opera … gentle calm music to flood the sunny, warm kitchen … I had just made a batch of quick pizza dough (I use my regular bread recipe and only let it rise once – adding dried basil and oregano to the dough) for dinner … and the excited group of chatty children had just finished filling trays with soil and picking out their favorite seeds to plant. Together, we sat around the small table on the patio and looked through the baskets of seeds.
Yes …
It's seed planting time!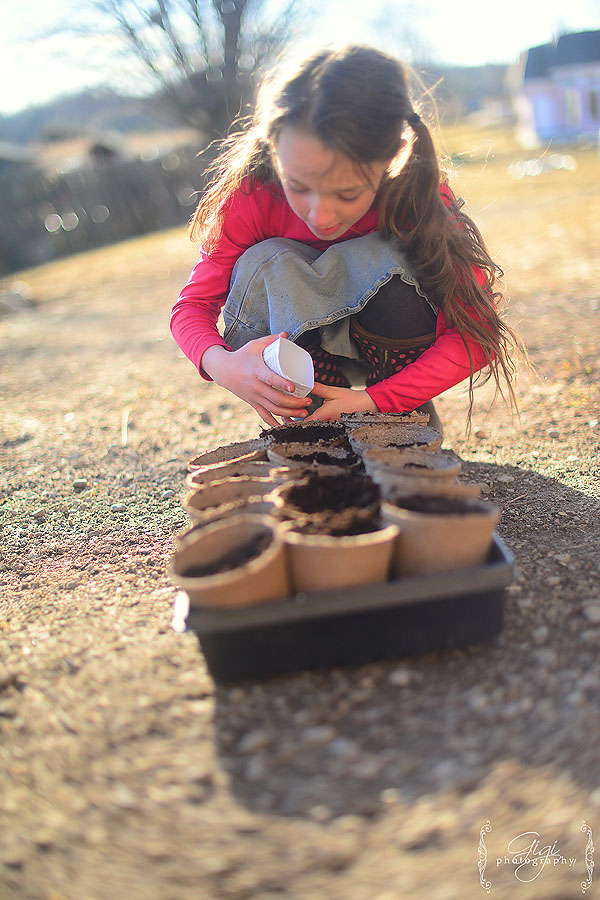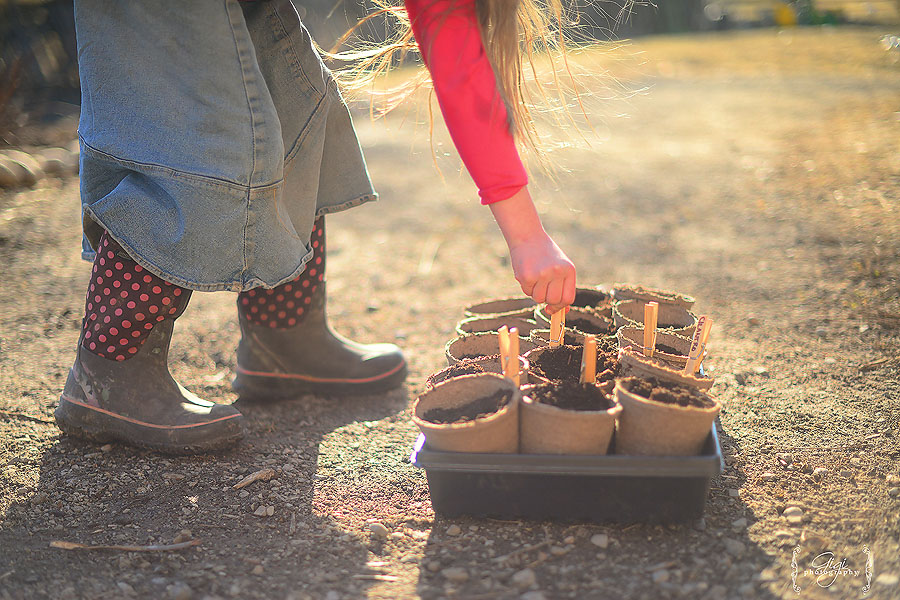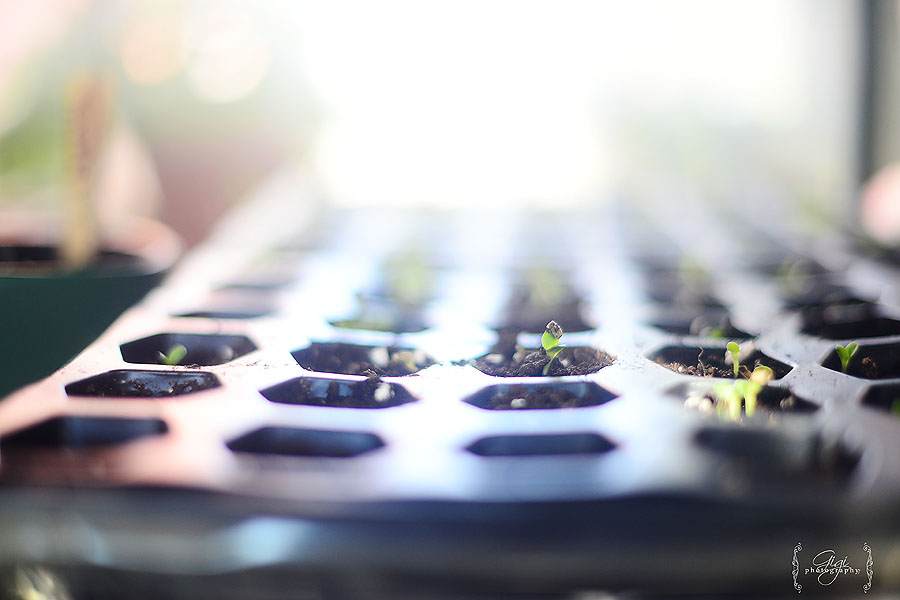 One of my favorite seasons.
Here in Ontario, our growing season is quite short, so we plant most of our seeds indoors for now. I have a few temporary type greenhouses that nurture my little seedlings for a few weeks before they can go out into the big wide world.
"There is something very exciting about holding tiny brown seeds in one's hand, in rubbing soil in one's fingers in the rows, in covering them up and patting them. There is something exciting in watering the bare brown ground, wondering whether the hidden seeds are doing anything at all, wondering whether they will burst out of the little shell and become roots going down and stem and leaves coming up. The day the first tips of green are seen, if they are *your* seeds, planted by your own fingers, there is a thrill that is surely similar to producing an art work, a thrill of accomplishment mixed with the reality of what is, what exists, what the universe consists of."
-Edith Schaeffer, The Hidden Art of Homemaking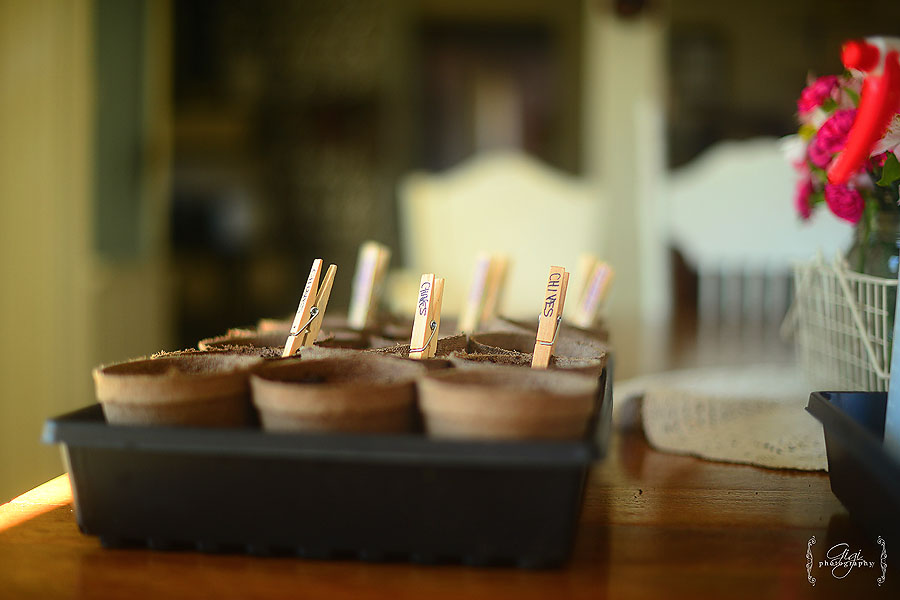 "Can I help, mommy," Leia asked, coming up beside me. Her beautiful face is washed in sunshine, freckled already – even with the tiny amount of spring sunshine that has been sprinkled our way.
"Sure, just pick what you want to plant," I answered, as she thumbed through the basket of seeds sitting beside my chair, settled in the warmest spot of our backyard.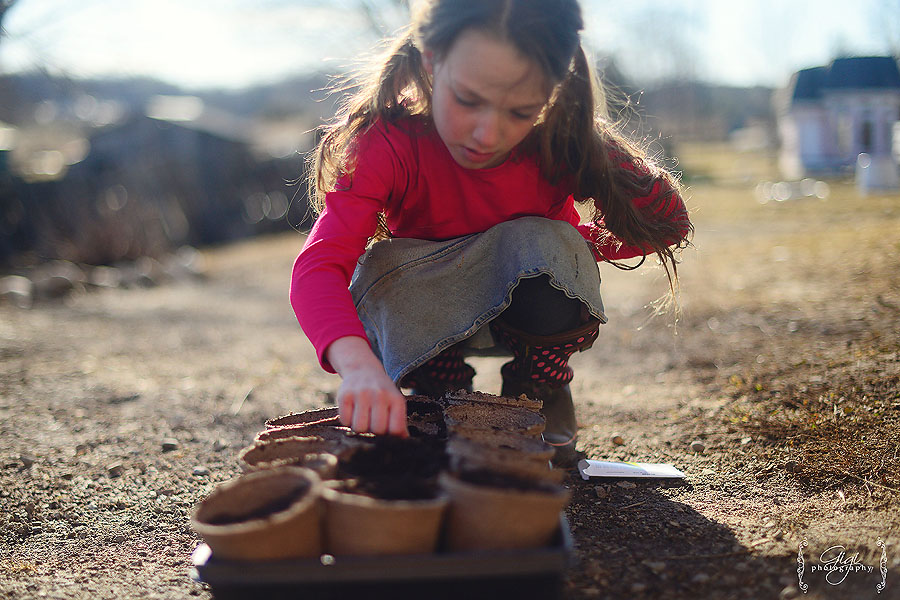 Holding up her seed envelope, she showed me her choice: a big ol' pink juicy watermelon was pictured on the front.
"This!", she said, running to get her planter filled with soil. Perfect … watermelon … for those hot summer days to come. [We have never yet been successful at growing watermelons from seed, but one can hope, right? We shall see what happens this year. Children are so full of hope and innocent anticipation. Any tips?]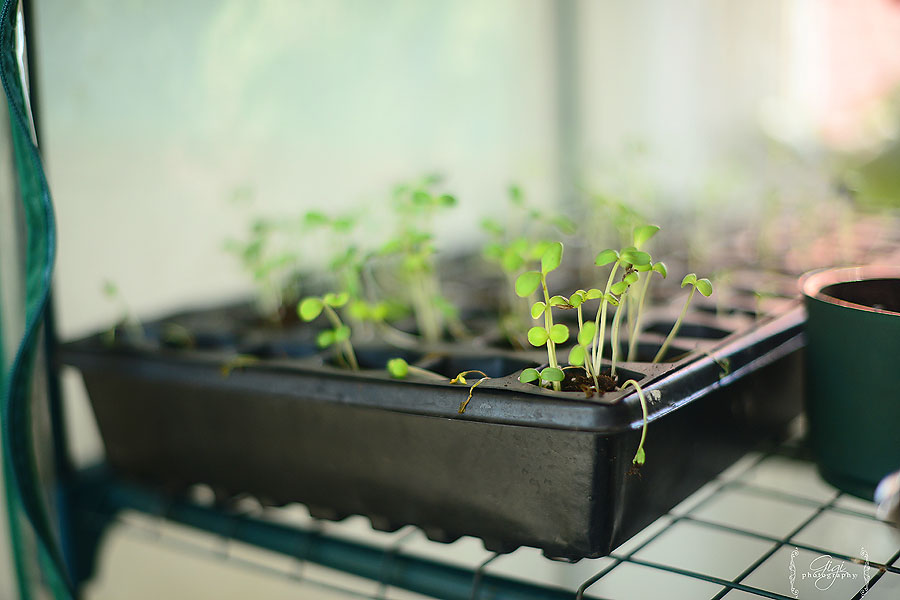 This year, my oldest daughter has planted trays and trays of a beautiful variety of Morning Glory flowers, which is her favorite flower. Together, we have a vision of beautiful pink, blue, purple, pastel and vibrant Morning Glory flowers climbing all over our place … wouldn't that just be heavenly?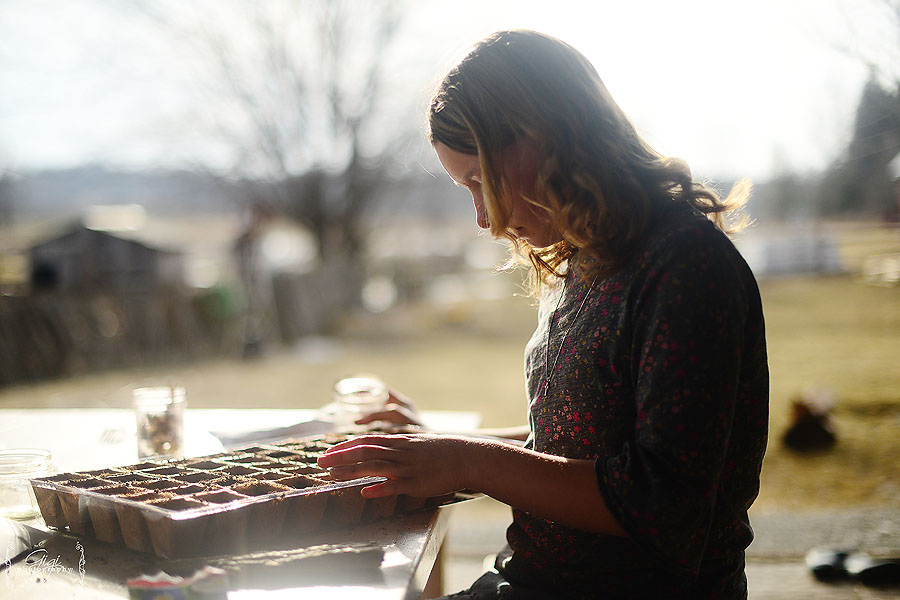 Indeed, I think it will! I'm happy to see her planting seeds, interesting in growing things … in fact, it is delightful to see all the children interested in planting seeds and watching them grow. My daughter has a greenhouse set up in her bedroom where she will take care of her seedlings until it is warm enough to transplant outdoors.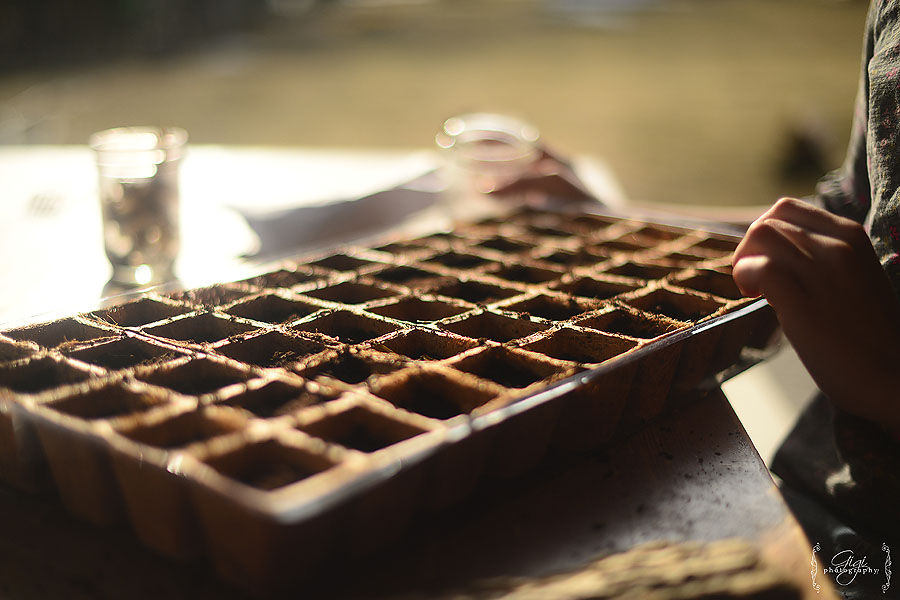 Our kitchen and upstairs bedroom also contain a mini greenhouse now – things will remain cramped for a while, as the greenhouses take up a bit of room. Everyone helps water them and take care of the seedlings. Hopefully … when planting time comes, we will have a little greenhouse variety of flowers, herbs and vegetables plant.
I have planted trays and trays of zinnias, black eyed susan, calendula, lupin, echinacia, oregano, basil, thyme, parsley, chives, dill, Baby's Breath, tomatoes, peppers, pumpkins and zucchini.  Some of these varieties I have in my herb garden already but every winter, I wait with baited breath to see if they will appear again after months of being buried under the snow. It is safer to plant a little extra in case my planted garden herbs suffered some damage.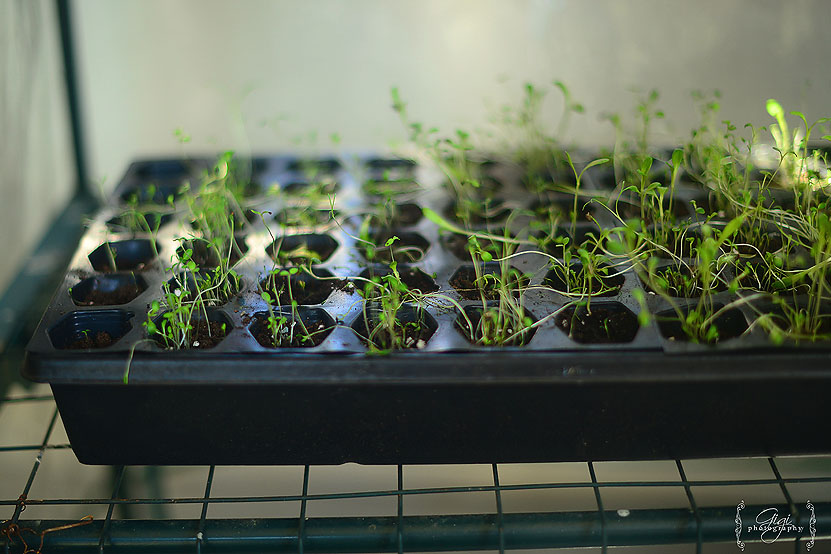 "Now faith is the substance of things hoped for,
the evidence of things not seen."
Hebrews 11:1
There is just something incredible about growing little plants and then … Lord willing, feeding your family with the harvest … making medicine from the herbs that will help keep your family healthy .. or simply enjoying God's incredible artistry in the beautiful variety of flowers.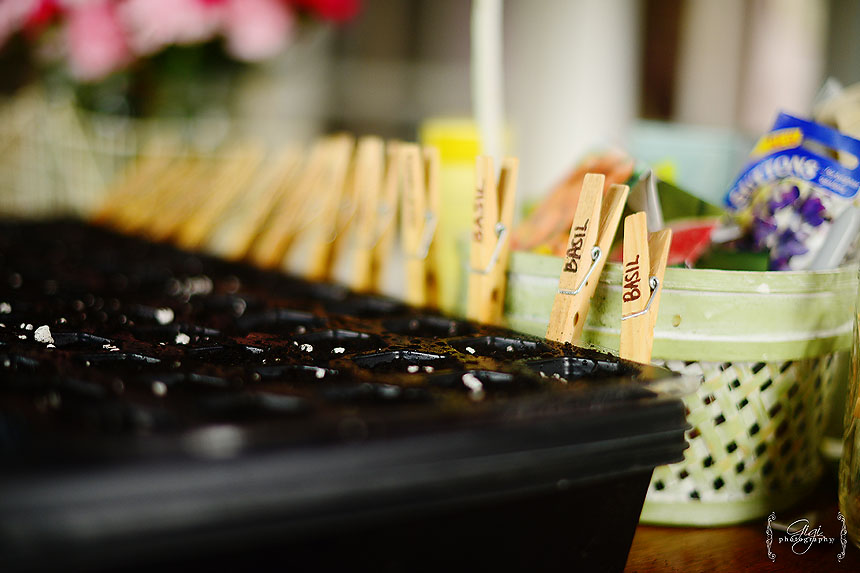 If you have are new to planting seeds, may I suggest trying to grow what your family will eat – you will find great satisfaction in producing your own food! Tomatoes, peppers, and kitchen herbs are a great way to start. Try filling a seed tray with your favorite flower seeds and watch what happens. In a few weeks, you may be pleasantly surprised. I always plant a little extra – more than I actually need – in case some seeds do not make it or perhaps meet up with an unfortunate incident (being dropped, stepped on once in the ground and so forth).
Post Script:
If time allows it, later this week, I hope to do a small post on how to plant a tea garden …