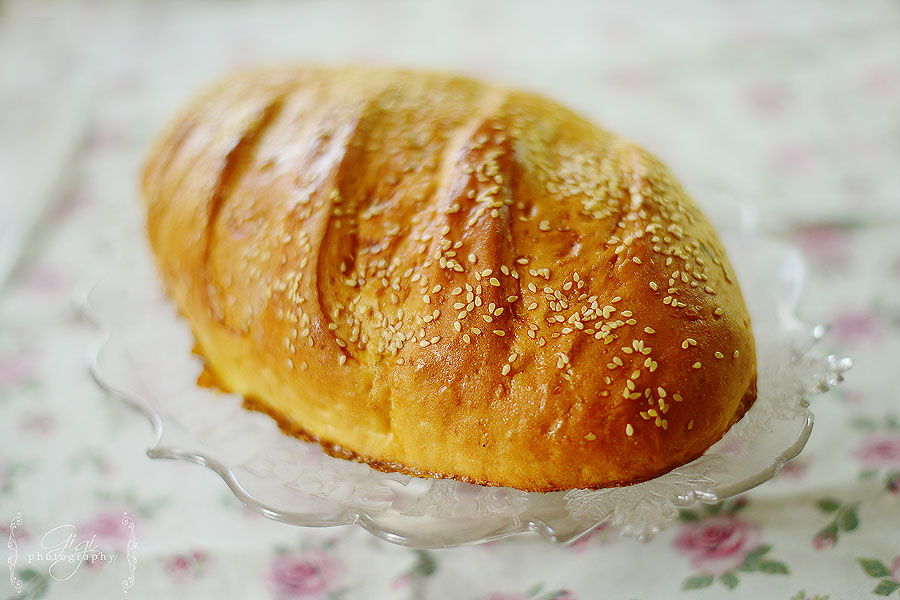 Today was a day for running a few errands … there was a quick visit to a hospital for a blood product needed for the pregnancy, a midwife appointment, a few stops in between … a drop off of the younger children at grandma's and a pick up … it did not take long to have all the errands finished but it was exhausting, nonetheless. It seemed that everywhere I drove while in town, there were lineups and traffic and summer construction on the roads … people were impatient and bustling about, it was busy and rushed.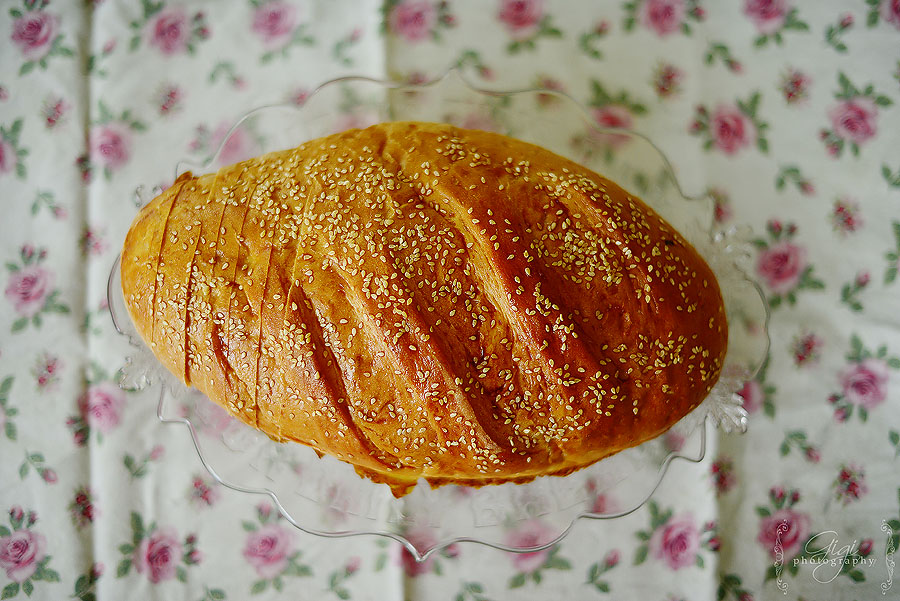 And it was only errands in a small town! I cannot imagine the noise of a big city or the stress of commuting on highways to work every day. Finally pulling into our gravel driveway later this afternoon, with the children sleepy eyed and yawning in their car seats, we were all happy to get out of the car and stretch our legs. I said a quick thankful prayer that we were home.
Ahhh, home. The best place to be.
Don't you love coming home? I think our children, and yes, especially our husbands, should love coming home. Yes, there will always be chores and to-do-lists and things to work on around the home, but that is okay. When you work around your home, cleaning, scrubbing, mowing the lawns, weeding gardens, organizing cupboards, cooking healthy meals, these are all ways to bless the home and the members within. Home should be a haven from the outside craziness and the busy world that keeps on going and going.
"Home is the nicest word there is."
-Laura Ingalls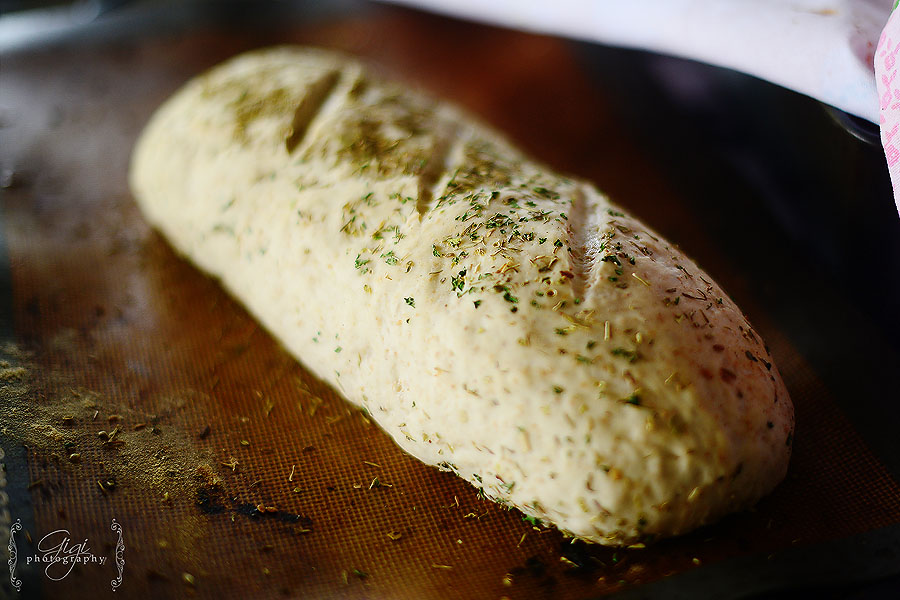 There are many nights that my husband cannot come home from work until very late. It is unforunate, but that is the way it is in the funeral business. Tonight, he is working late and I feel badly for him. Our husbands don't always have the blessings of enjoying "being home" when they are the main financial provider. Many jobs are demanding – I know my husband's line of work is way more intense than I ever realized. Therefore, his time at home should be comforting, even if he still has his daddy-hubby chores that need tending.
Although I have no idea if my husband notices, the girls and I always do a 5:30 p.m. clean up of the house and outside so that daddy can come home to a clean environment on the nights he is here for dinner. I have learned from wiser, older woman that it is a good thing to have the home somewhat clean and orderly when your husband returns home, to have dinner ready, to have the home smelling scrumptious and inviting. Sometimes, I must admit,  I even plan my bread baking upon my husband's arrival because, truly, would that not be a welcoming smell to come home to? Who can resist the delicicous aroma of homemade bread wafting through the home?
So now with that confession made, may I share a lovely bread recipe with you?
It is similar to the older recipe I posted but even more simple. I call it a French Bread recipe, simply because I shape it as a French loaf for our dinner meals.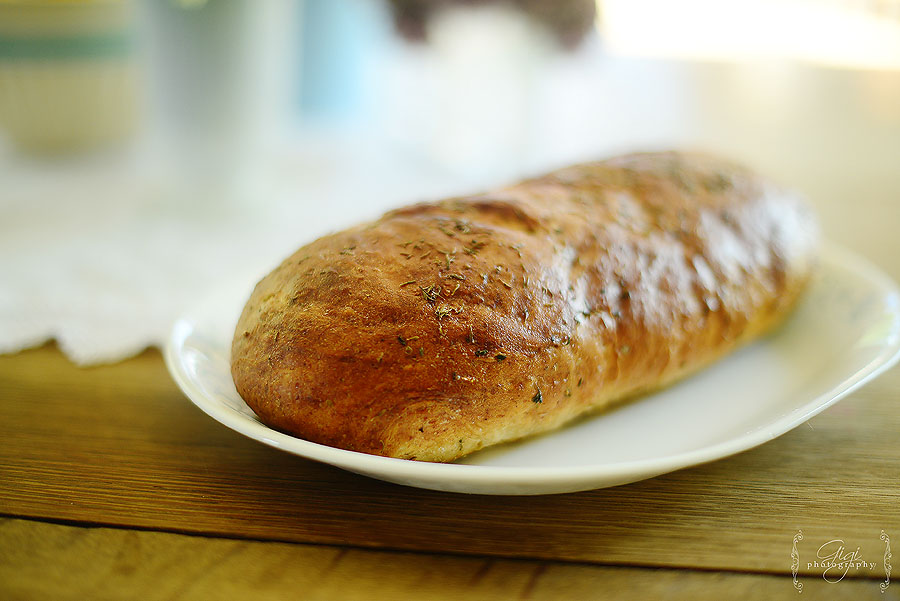 4 teaspoons of yeast – poured into 2 cups of warm water – stir and let it rest for 8 minutes or so.
Next, measure out 6 1/2 cups of flour – I vary my flour. You may use what suits your family best.
some salt for flavour
Once the water/yeast combination is frothy, mix this into your flour in a large bowl. I use a spatula to mix these ingredients.
After it is all mixed, I leave it to rest for 10 minutes.
Upon returning, I will add my salt and start kneading until the dough is soft and stretchy – roughly, 100 kneads.
Shape into the bread style you desire and let it rise until doubled in size. Slash the tops if you wish.
This recipe will make two loaves of bread.

This is a lovely dough. You can add cinnamon and make it a cinnamon loaf for breakfast.
Or add a dash of garlic salt, parlsey, oregano and basil for a loaf that is scrumptious with spaghetti.
You can also brush with egg yolk and sprinkle some sesame seeds on top for variety. You can add a dash of sugar and make it a sweeter loaf of bread, as well.

Bake at 350 until golden brown or until the loaf sounds hollow when you tap the sides.
Sit back and enjoy that delicious, homey smell of homemade bread … when the bread has cooled, you may slice and serve it up to your family.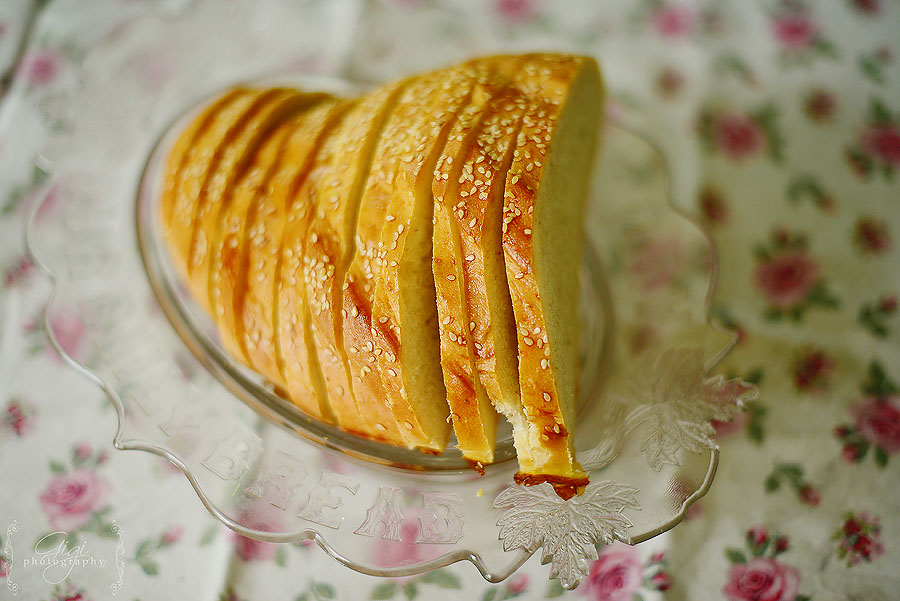 Do Do you see the lovely glass dish the loaf is sitting on? A dear friend of my mom's knew that I would love this plate when she saw it at a store. With a generous spirit, she purchased it and sent it along to my family through my mom. Well, YES, indeed, I loved the plate the first time I saw it – it is a faint pink and oh so pretty! …Can you see it is etched beautifully with the phrase "Give us this day our daily bread"? It is a very pretty vintage plate.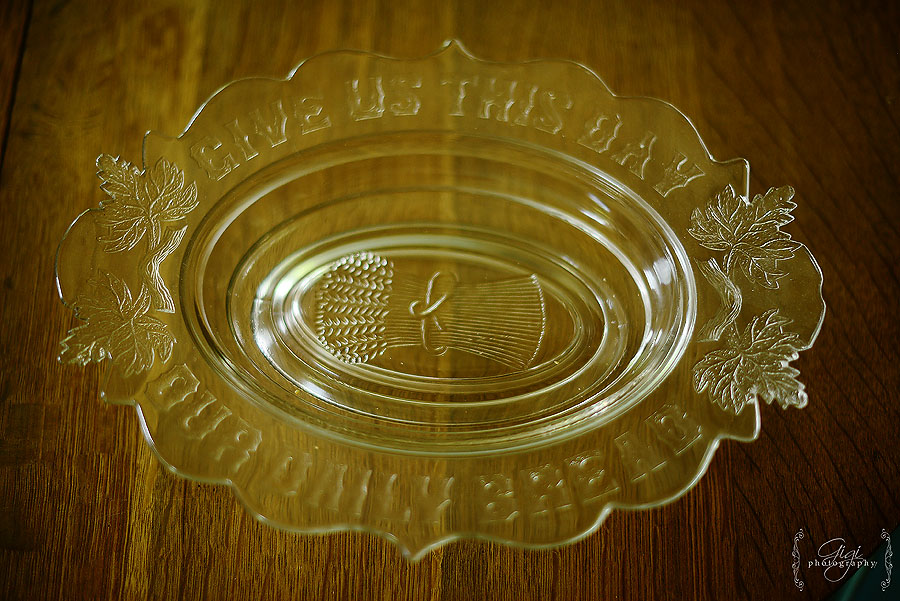 When I showed my girls this lovely plate, Lacey, my eldest, spotted it quickly. This was an identical  replica of the plate from Laura Ingalls Wilder's home! Isn't that just spectacular?! You can read more about the story of Laura's bread plate here. The bread plate now holds a very special place in our home and is only used for *very* special occasions. It is a very special plate to us, indeed. {Thank you so much, Mrs. Simpson!}