"Does she cry often? She seems so happy all the time…"
The question was asked at a recent church gathering, an enquiry about our little baby's cheerful demeanour. Dressed in her sweet little church gown, her soft baby head covered in her lacy bonnet, I felt like I was holding a sweet little piece of Heavenly bliss. As baby #10 of this noisy imperfect but happy family, our little one is loved and held so often, completely adored.
"She's a sweet baby," I replied … "We try not to give her a reason to cry. Someone is always around to cuddle her…"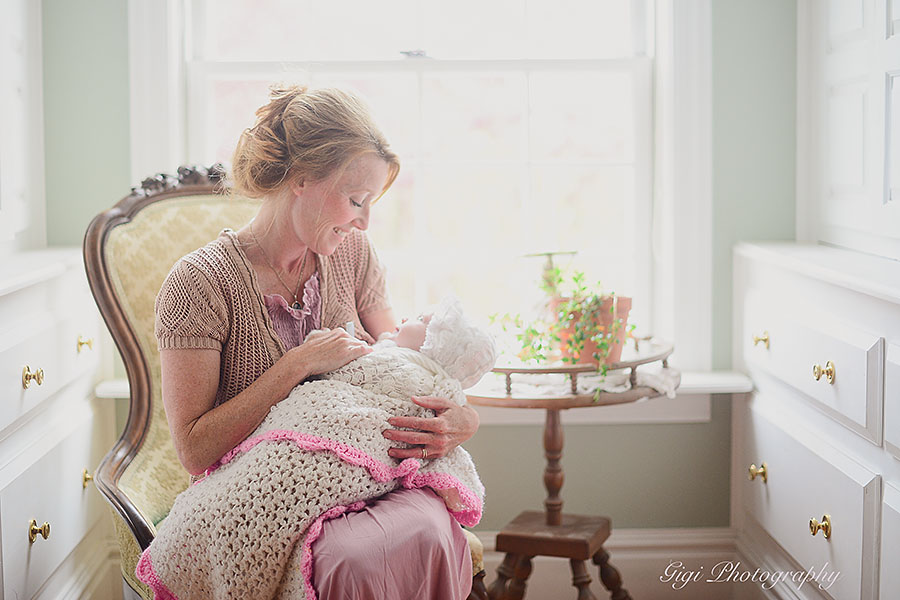 And so this is true. So many arms, so many little mothers, so many people wanting to hold our sweet baby.
"Where do you put her when you have things to do?" another person asked me, one afternoon when we were gathered in my kitchen for tea. She had — no doubt — looked around and noticed no baby carriers, baby seats or chairs, other than the old wooden high chair nestled in the corner of the kitchen.
"We just hold her!" I replied, smiling.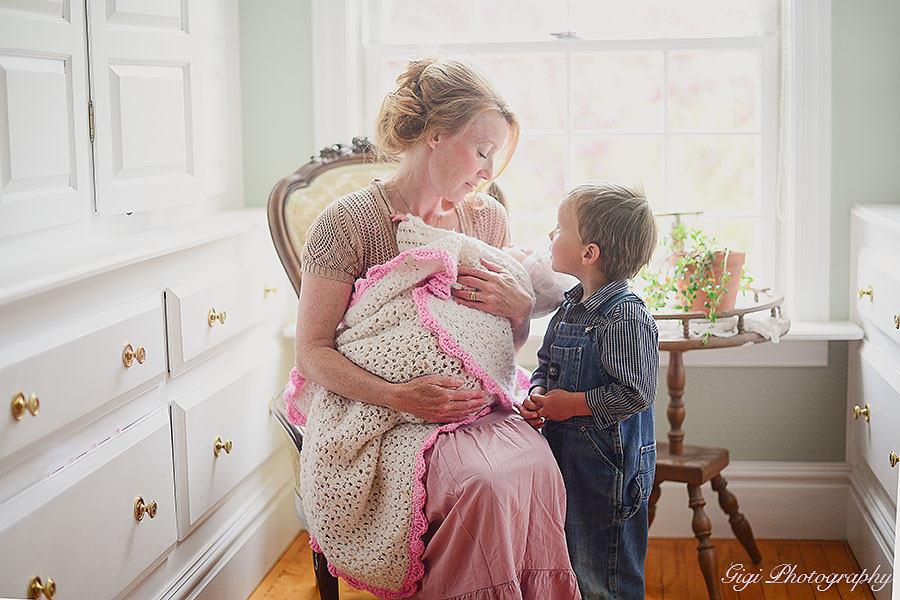 A few weeks spent in Africa during the early years of marriage made an impression on me – I noticed the mothers just held their babies. There were very few strollers, no bouncy chairs, just loving arms … and I noticed their babies are happier, held more, content and cuddled always by loving arms. The absence of fancy car seats, bumbo chairs and  "super saucers" did not seem detrimental in any way … in fact, it was just the opposite. These little babies were just tied to their mommas or older sisters and they were content and happy …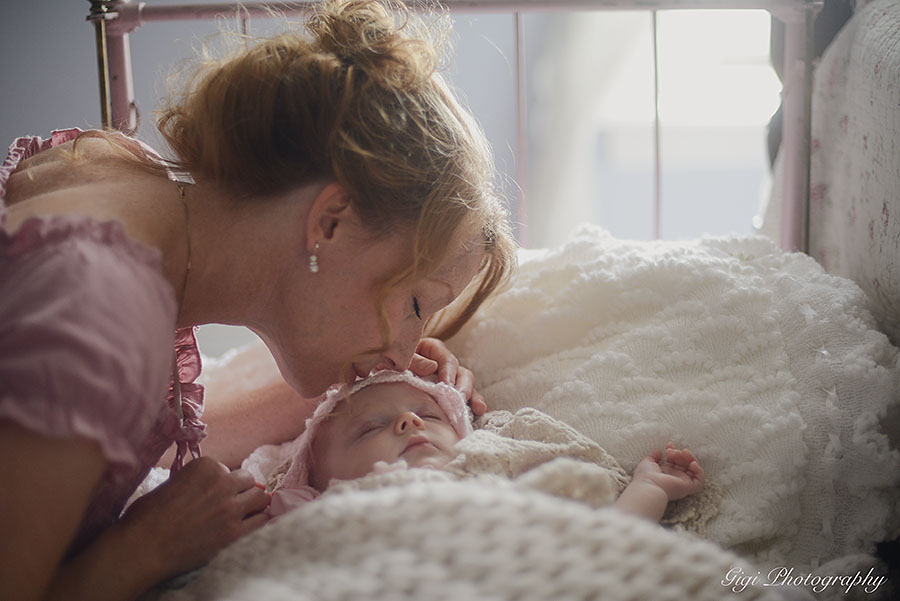 It was later in my motherhood years I read about how damaging a baby seat can be to a little one (if left in the seat for long periods of time) – so since then, we have always had ready arms, loving sisters and a momma willing to hold the littlest one.
I also read this, which opened my eyes to a new way of mothering. You can also read this article to echo my thoughts.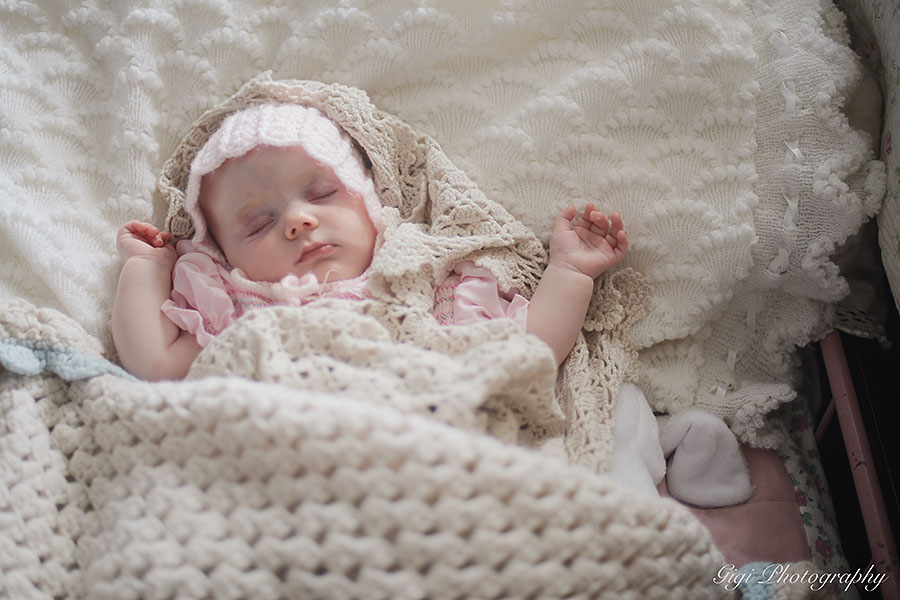 I suppose I am old school – or new school? – in my ideas of mothering babies. I have been told I am spoiling my babies, that I hold them too much, that they should cry more.
"It's healthy for them to cry," said one relative, much to my dismay, while visiting one Sunday afternoon.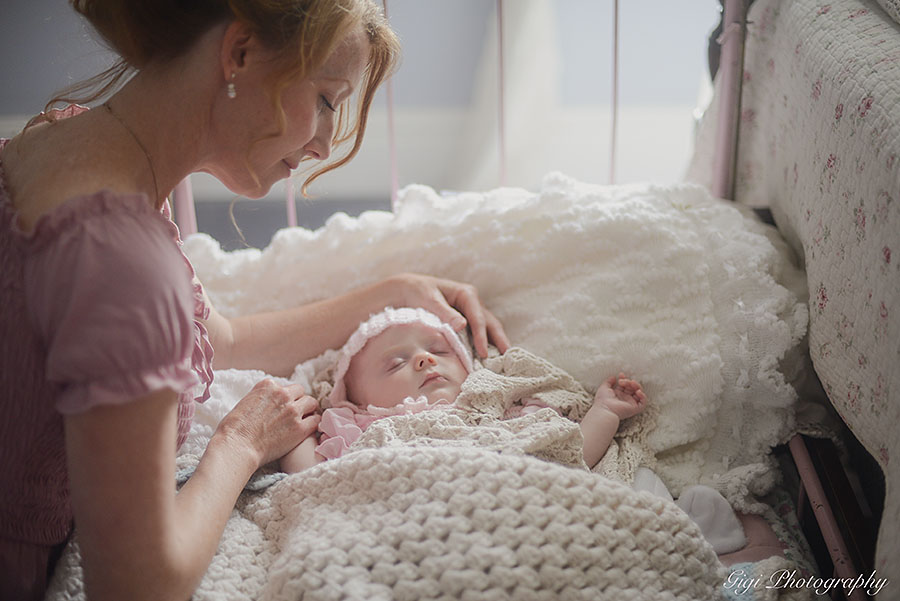 Well, I firmly disagree!
If there was a lesson I could teach younger mothers in their new parenting journey is that time truly does slip through your fingers – enjoy those hours of rocking and holding and cuddling your little one. The best cradle is the mother's arms. Your first year with your baby is so very important – it bonds you and your child together. Do not be discouraged by the hours you spend holding your baby – it is all worth it.
I suppose this is where I an a grandma in my thoughts … as Edgar Guest (my favourite poet) wrote in his following poem.
"They're letting him cry!" said the grandmother gray;
"They're letting him cry, and they've sent me away. 
They're raising that baby on schedules and things;
They won't have a cradle that teeters and swings;
They won't let me rock him to sleep on my knee,
And his father and mother won't listen to me. 
"That husband and father just laughed in my face
When I called their neglect of the child a disgrace.
'The very idea,' I said in my rage,
'His mother was rocked every day at his age.
Hour after hour in my arms she would lie — 
No baby of mine was permitted to cry!"
"I suppose I know nothing of babies at all! 
I've only had four of my own that were small;
I've only rocked four on these knees which they spurn,
And now from my guidance and counsel they turn.
They're training the baby. Well, take it from me, 
The best place to train one is right on your knee.
"It wasn't my practice to sit calmly by
And go on with my sewing and just let them cry.
I fed when they hungered and not by the clock,
And I never begrudged the long hours I'd rock.
These new fangled-notions were wiser, they say — 
As if you could better a grandmother's way!"