At this moment seven years ago, I was getting dressed in my wedding gown (still my favorite dress ever!) and having my hair and makeup done … stepping from the threshold of being a Miss to Mrs. 
I *SO* wish I had a professional photo to share here on the blog, but alas, the days of digital photography were just beginning seven long years ago so this is just a snapshot of our wedding day. Believe it or not, yes, that little adorable bunny I am holding in this picture was my bouquet. His name – Oscar. And he was my sweetie BEFORE Abby so he was included in our ceremony …. the fact that Abby didn't laugh or forbid a bunny rabbit in the wedding party says a lot about that guy. 😉 He's pretty easy going and I love that about him!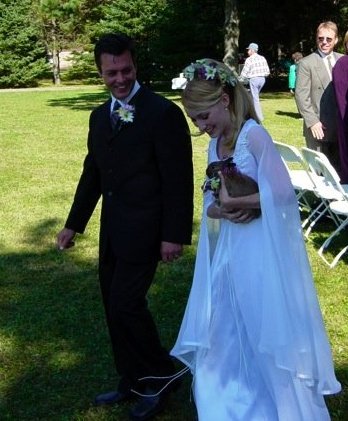 Now, two houses, three little girls, three dogs (oh dear, a really bad track record there!) and one cat and bunny later, we're here at the seven year mark. WOW, what a journey is has been already! We most certainly do not have the perfect marriage, but we're working on it and we're learning more and more about WHAT makes a marriage work every day.  
(Wow, have I ever greyed the poor guy!)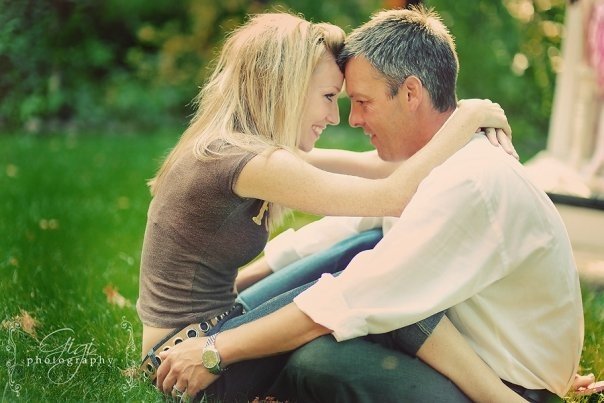 And while the seven year gift is wool or copper (Okay, seriously – who made up these rules?), I told Hubalicious that such a gift would be a no-go. Pfffttt. How many scarves does a girl need anyway!? 😉
So instead, we booked ourselves in for an afternoon at the Hockley Spa. Lucky for me, Abby is one of those guys that's NOT afriad to step into a spa … so in less than two hours, we'll be enjoying some wonderful spa-pampering … now, THAT is the life.  We rarely go on dates – hmm, almost never – as it's hard to find the time/money/babysitters/energy to go out on dates … so this is a big date to make up for all those missed little ones. 
I have to be honest – I had NO idea when I got married how much work a marriage would be – there's a lot of sacrifice, a lot of give and take and a lot of effort … but it is so worth it. The payoffs are amazing – to be married to someone who is your best friend is an amazing blessings. Every day, Abby and I are discovering more about what makes a marriage work and how to raise a godly family ….  
Just for fun, here are some links to books and resources that I have found amazingly helpful in our marriage. 
Men Are Like Waffles, Women are like Spaghetti
Happy Anniversary, Hubalicious!!!!! Here's to MANY more years of wedded fun!!!