"Fathers, mothers, remember this:
and if you would not have your children lost to you in after-life —
if you would have your married daughters not forget their old home in the new one —
if you would have sons lend a hand to keep you in the old rose-covered cottage,
instead of letting you go to the naked walls of a workhouse —
make home happy to them when they are young.
Send them out into the world in full belief that there is
'no place like home, eye, 'be it ever so homely.'"
-The Royal Path of Life
The back screen door slammed and the sounds of snowy boots being kicked off could be heard.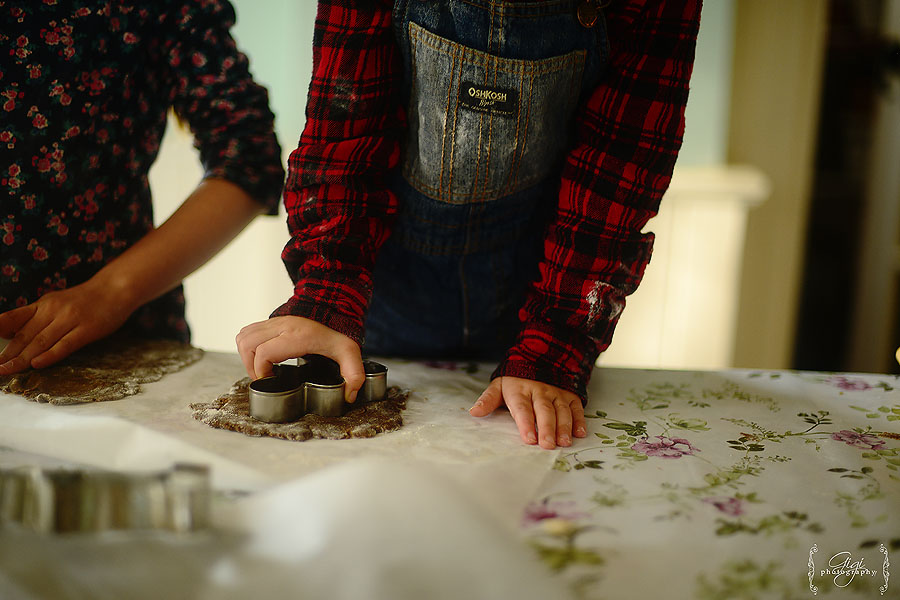 "Mommy …. mommy … you should see Katie's gingerbread house," my youngest daughter called with great enthusiasm, as she pulled her short legs out of her restricting snowsuit. "She has so many candies on the house! Pink and red and green!"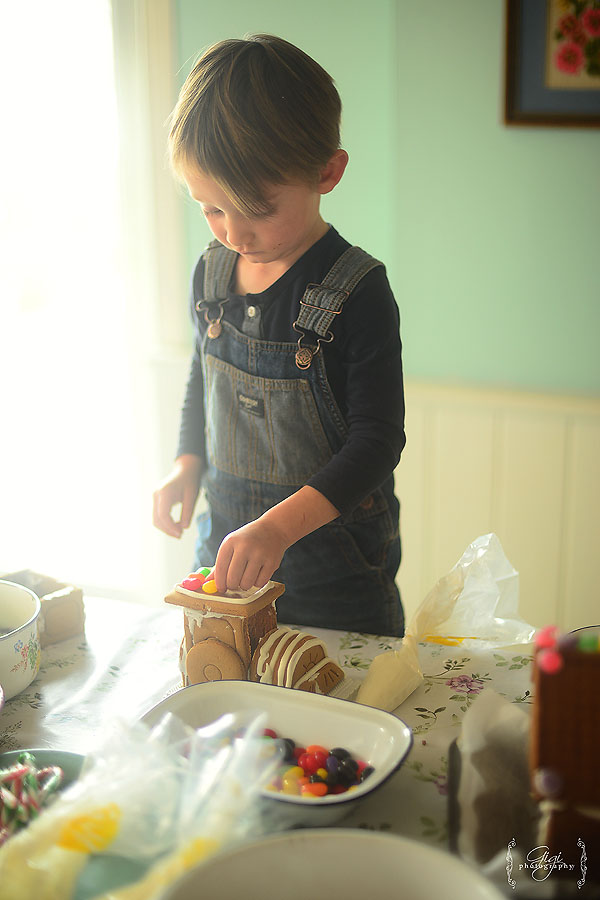 Her little freckled cheeks were rosy with the flush of outdoor play and, more than likely, tinged with the merry excitement of seeing the next door neighbour's fantastic gingerbread creation.
"Oh yes," I mumbled, while picking up stray mittens and clipping them to the makeshift drying line we have strung near the woodstove.
"Can't we make one?" questioned the five year old sweetheart, looking up innocently at me.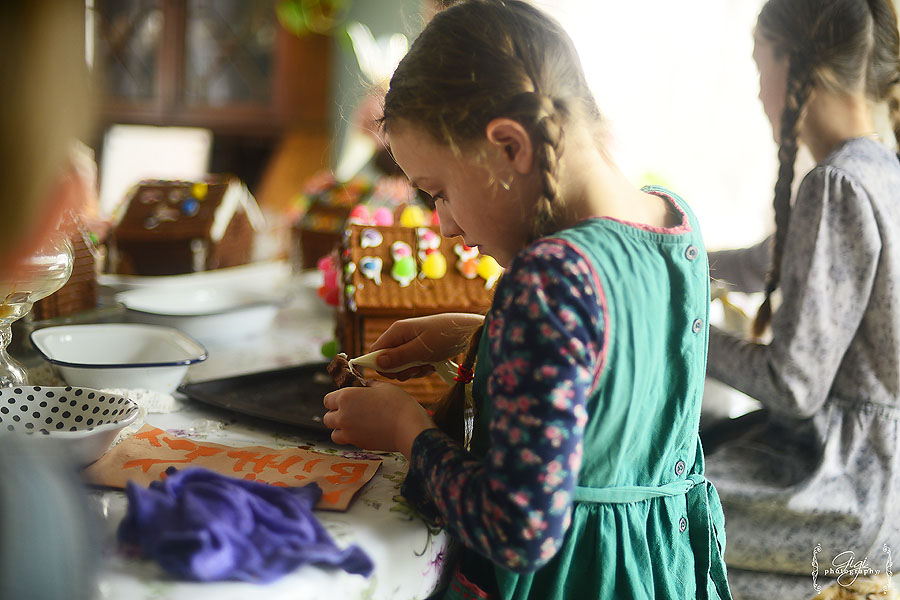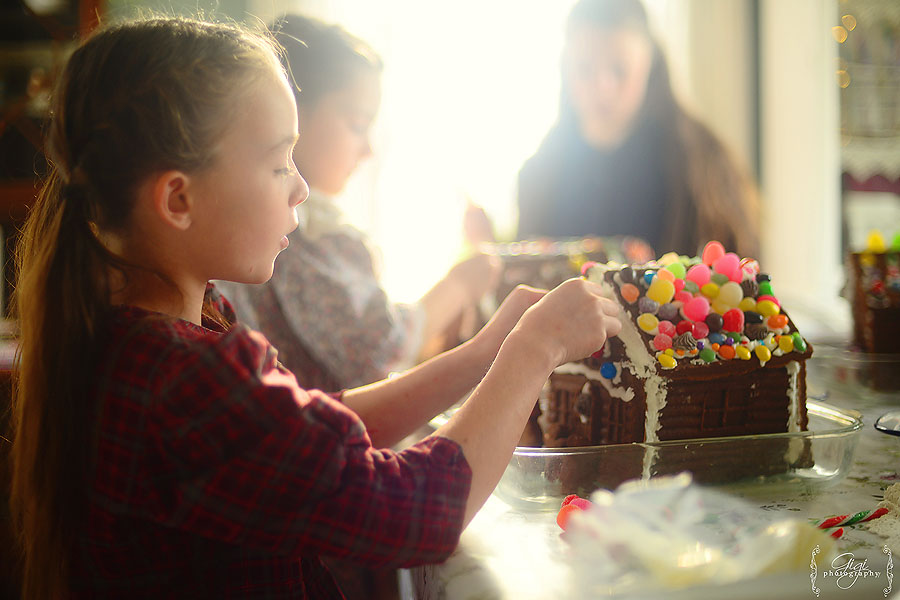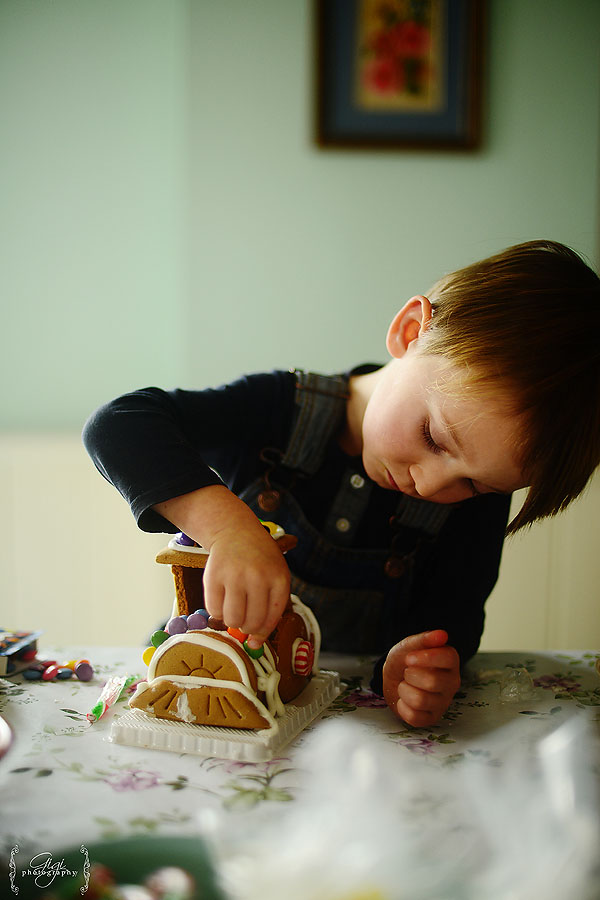 Oh dear, I thought, silently cringing inside.
Gingerbread houses.
For eight children?
While I have fond memories of making candy-loaded, super-topped-iced gingerbread houses with my grandmother in her cozy home as a child, the world of gingerbread houses is completely different now that I'm wearing the other motherly-worn slipper.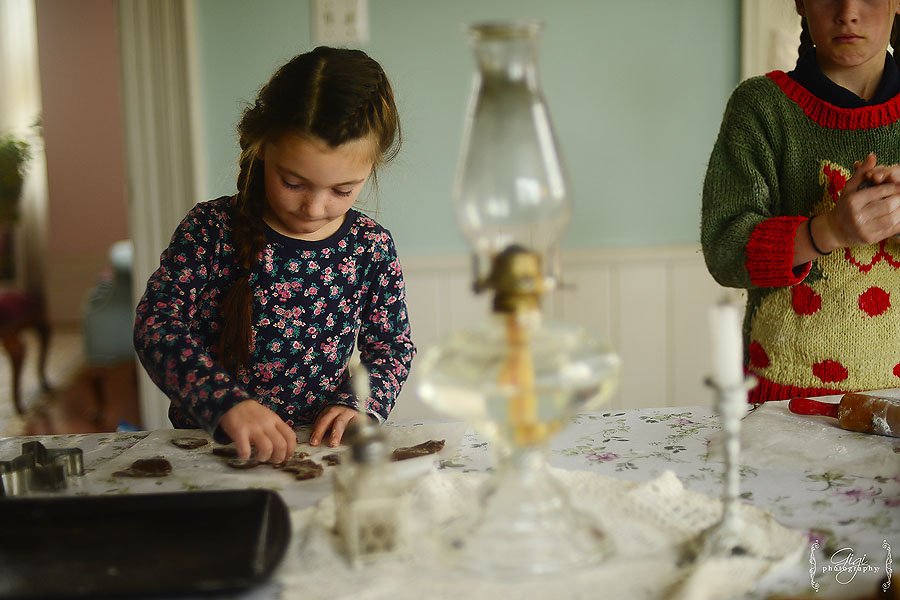 This mother of eight … in the family way … not feeling up to the monumental task of creating gingerbread houses, knowing sugar will abound without limits and the actual cleanup of such an endevour would require all household cleaning apparatus' on deck … all these thoughts went speeding through my mind as my little girl chattered on about the neighbour's lovely little gingerbread home. Yes,  a broom, rags with cleaners for sticky surfaces, a mop with hot soapy water, the vacuum for stray sprinkles stuck under baseboards … yes, it would be a big endevour to just clean up from eight gingerbread houses …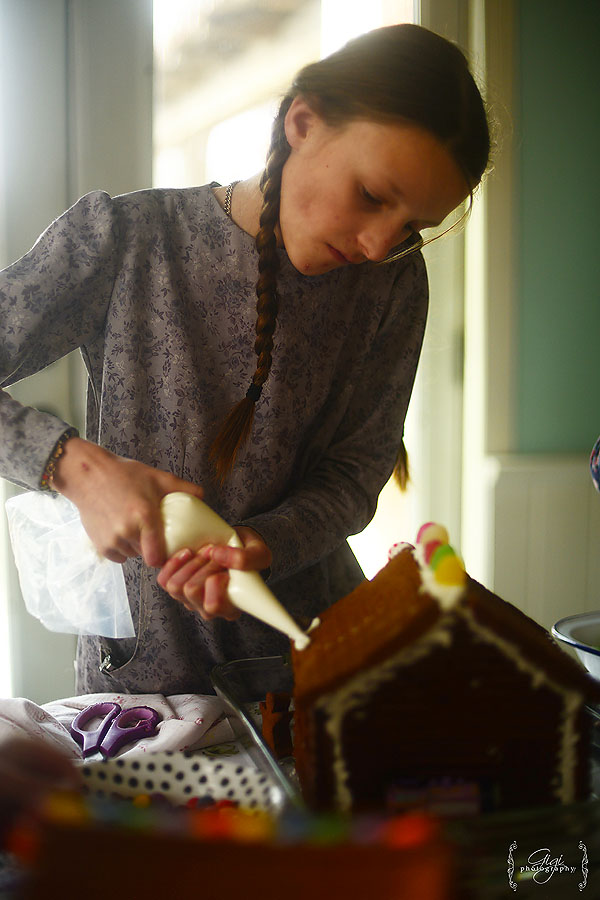 Swiftly avoiding a melting-snow-puddle on the floor near children winter boots, I quietly returned to my workplace in the kitchen, hoping my enthused daughter would forget her jolly experience of candy and gingerbread dreams, just over the fields at the neighbour's house.
Not more than half an hour later, two more excited daughters marched into the kitchen. "Did you hear? The neighbour's made this amazing gingerbread house …"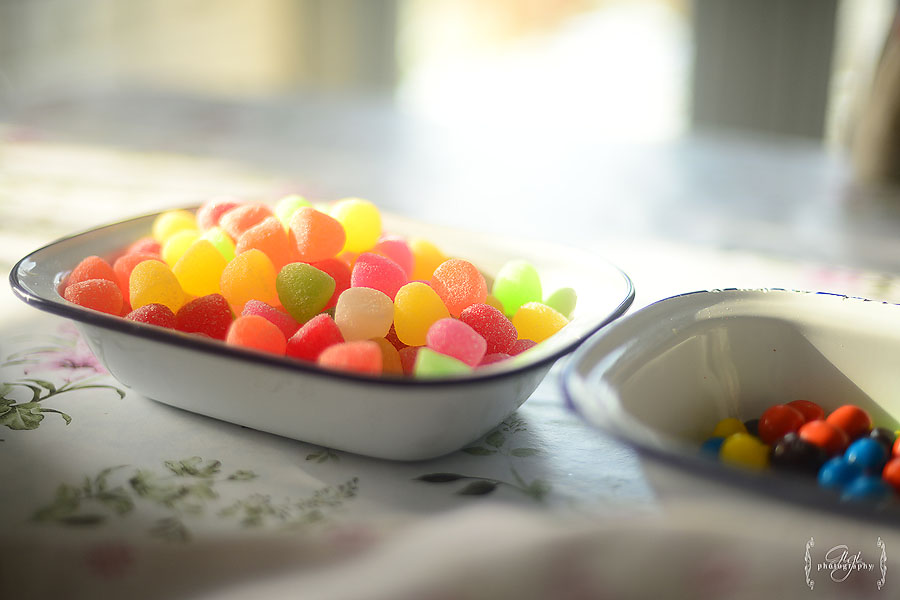 "Uh-huh,"I mumbled, pretending to be very interested in the creation of dinner. "Did you hang up your mittens to dry?"
Maybe they will forget …
Around supper time, all the children were called to the kitchen for a routine cleanup when the seven year old decided to add her opinion to the neighbourly visit.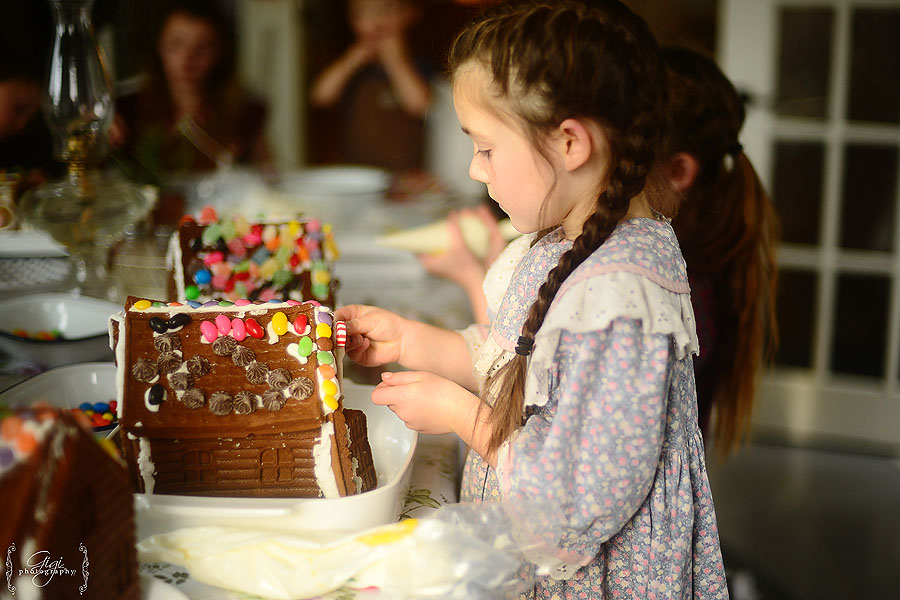 "Mommy, did you know the neighbours made a …" she began.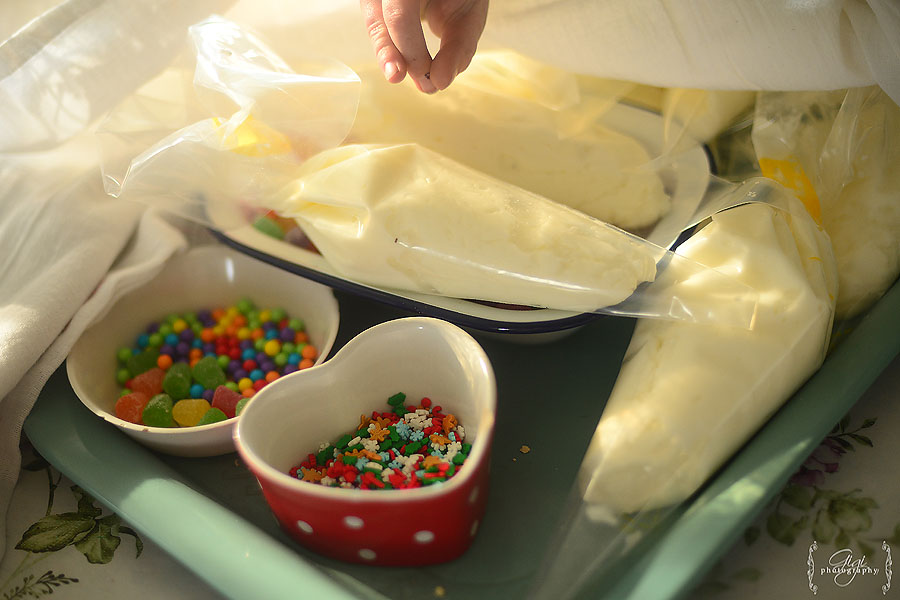 Rather snappishly, I rudely interrupted her: "I know, I know. I heard already from everyone else. That's nice."
As soon as I answered, I was ashamed of my own selfish, lack of love attitude.
"She was just excited to tell you," my 15 year old said quietly, almost rebukingly, as she shredded the cheese for our dinner meal.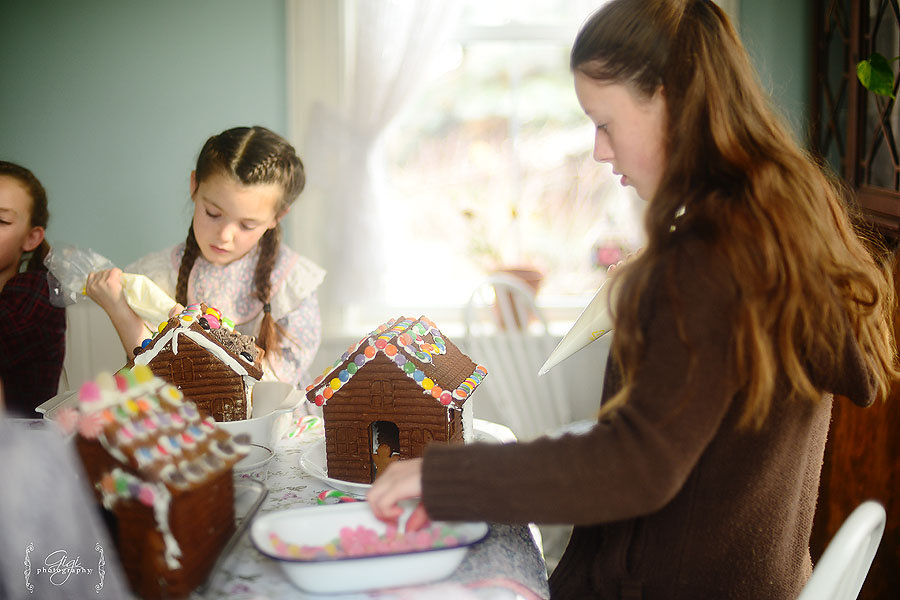 Dropping my head in shame, I realized I had been too short with the little children. Yes, perhaps I did not want to actually make gingerbread houses and would rather skiff through December without having pressure put on me from what other families are doing …. but, was I also being selfish, not wanting to give up my morning or afternoon (let's face  it-  all day) to help the girls and boys in my charge make their little gingerbread creations?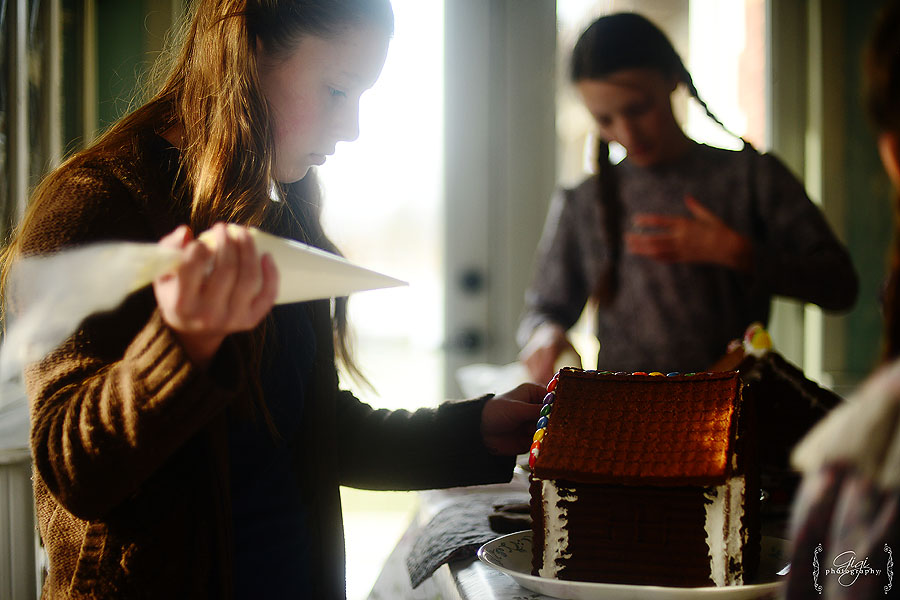 Perhaps, indeed, I was.
"And the King shall answer and say unto them,
Verily I say unto you, Inasmuch as ye have done it
unto one of the least of these my brethren,
ye have done it unto me."
Matthew 25:40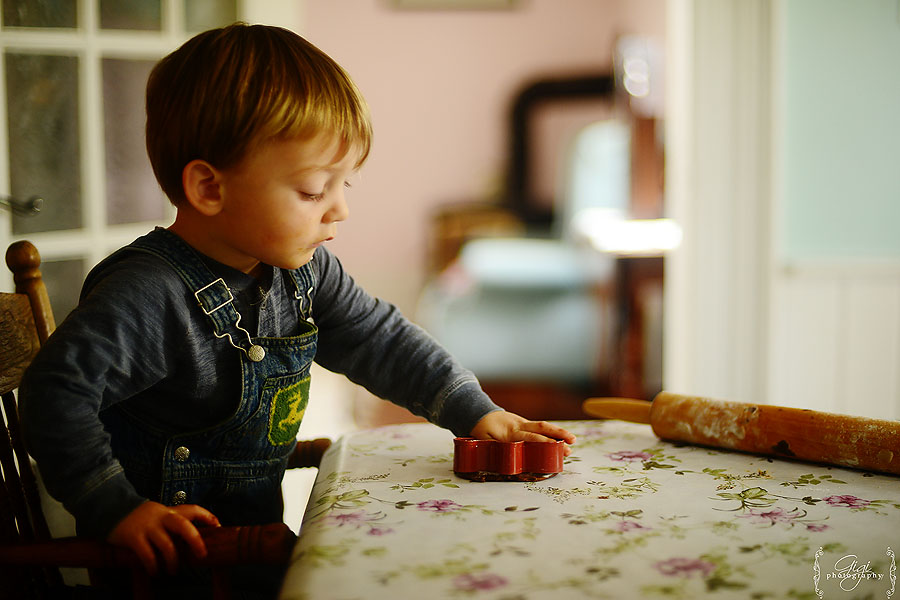 The next morning, I resolutely got up extra early and, with love, began preparing for the giant batch of gingerbread dough. A recipe that would make six gingerbread houses (one for each of the girls and a purchased gingerbread train to share for the boys – as I did not have the mold for this) would certainly be quite the task. In fact, it did indeed take all day but the dough was made and careful pressed into the gingerbread house mold six different times, slid into the hot cookstove half a dozen times. Slowly the house began to smell delightfully warm and cozy and my mood began to improve as I felt my heart fill with pleasant unselfish love for my eight children, anxiously awaiting their gingerbread constructions.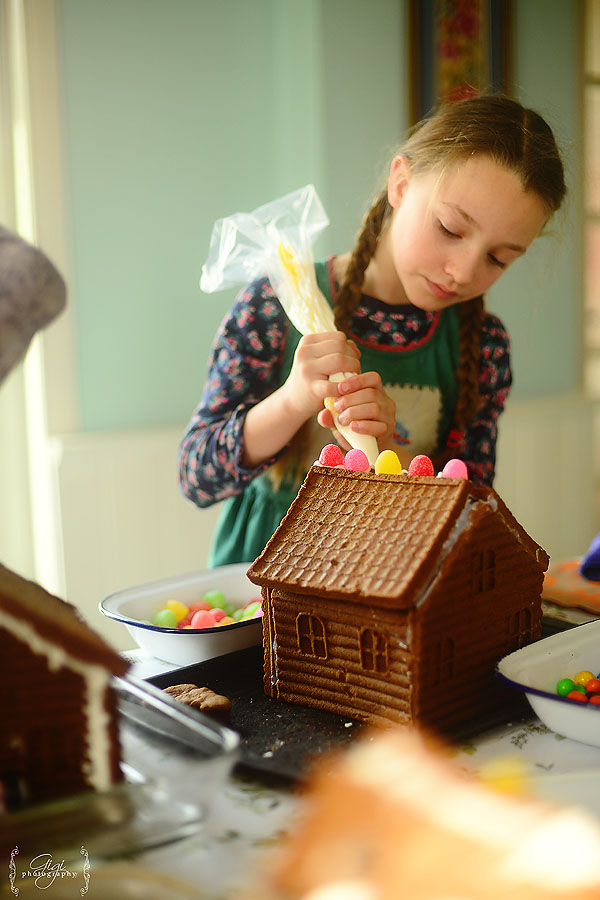 "Ohhhhh … are we making gingerbread houses today?" Lavender questioned,  standing on tippy-toe to peer at the counter and see what creations were coming out of the warm oven.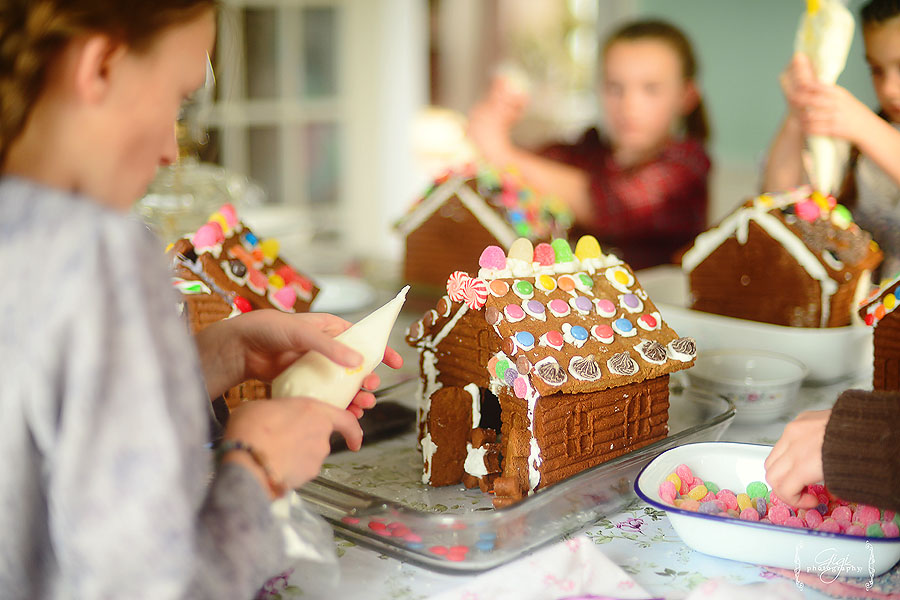 "Yes," I said, smiling. "We'll put them together tomorrow, after they are all baked."
She clapped her hands with joy and danced out of the kitchen to tell her siblings the good news.
Once the gingerbread molds were filled and baked, it was time to make up all the large batch of snow-like icing that would cement the little cookie houses together. Another monumental task! Anything done around this family is always quite the large job as most things need to be doubled, tripled and more in order to stretch it throughout the entire cast of children. Mounds of whipped icing was made up and carefully slotted into icing bags, all ready for the next day's creation.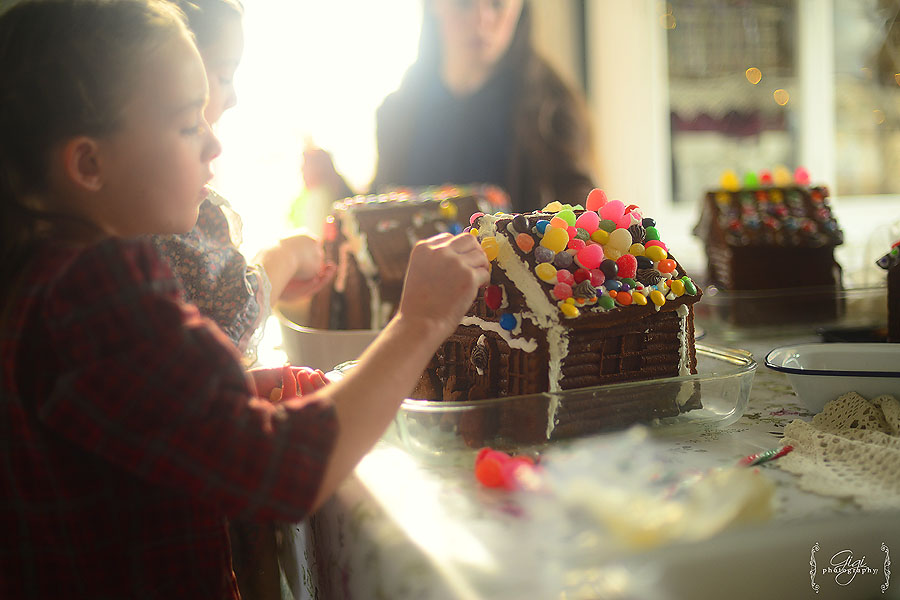 My mood was improving and I felt I had answered the call of duty. It was my job alone to be the mother to this large group of energetic children – no one else was going to make gingerbread houses with them – and if I did not create the memory, then who would? I would not shirk this little (large) duty just because I was pregnant, not in the mood or tired.
[As it happened, it was to be a birthday week for one of my son's, so we used the gingerbread house decorating as a birthday activity for him on his special 4th birthday. It made his day extra special and he enjoyed creating his little gingerbread train.]
Being a mother that is fully there is not a role we can put on when we feel up to it; sometimes I have to force myself to do the right thing, to give up my afternoon of pre-planned chores or activities in order to fit something into the day that will make a memory. Slowing down, being intentional with the days, creating memories and smiling at my children minute by minute, instead of rushing around, getting chores done and over-working myself (as I tend to do)…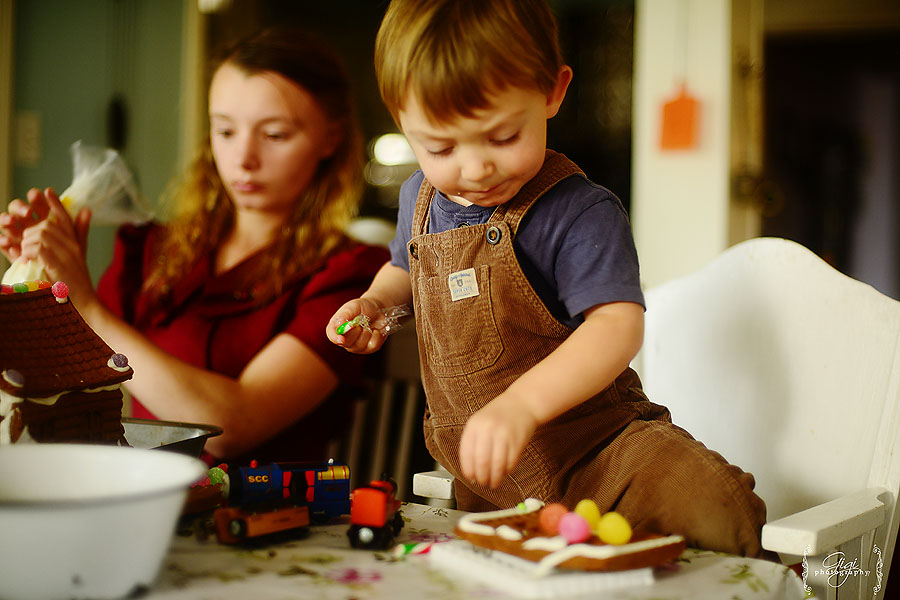 Grateful for the day spent together in the warm cozy kitchen, I allowed myself to enjoy the sticky-candy-moments and the delicious smell of gingerbread wafting through the house. Sitting beside my youngest, who was just thrilled to be eating some of the candy rolling his way, I realized how blessed I was – blessed to have all these lovely children that need me, blessed to have the home to make cozy for them, blessed to BE AT HOME to create these memories…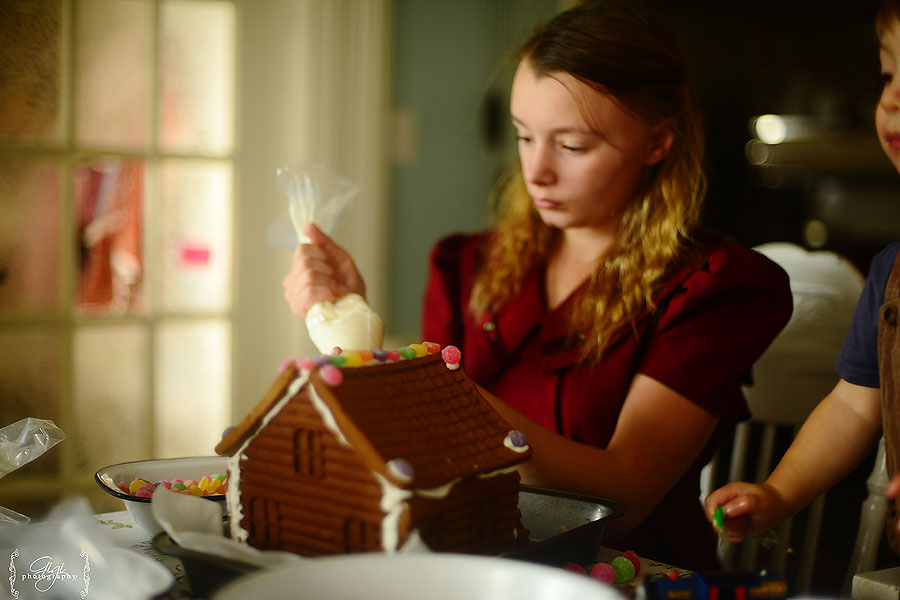 … blessed to have the time and energy (although waning) and health to be active with my children … blessed to have my 15 year old help her two year old brother stick his candies on his gingerbread creation …
Let me never be so busy with my daily tasks that I cannot slow down enough to help my little [and big ones] make a few messy, sticky-candy-overloaded memories.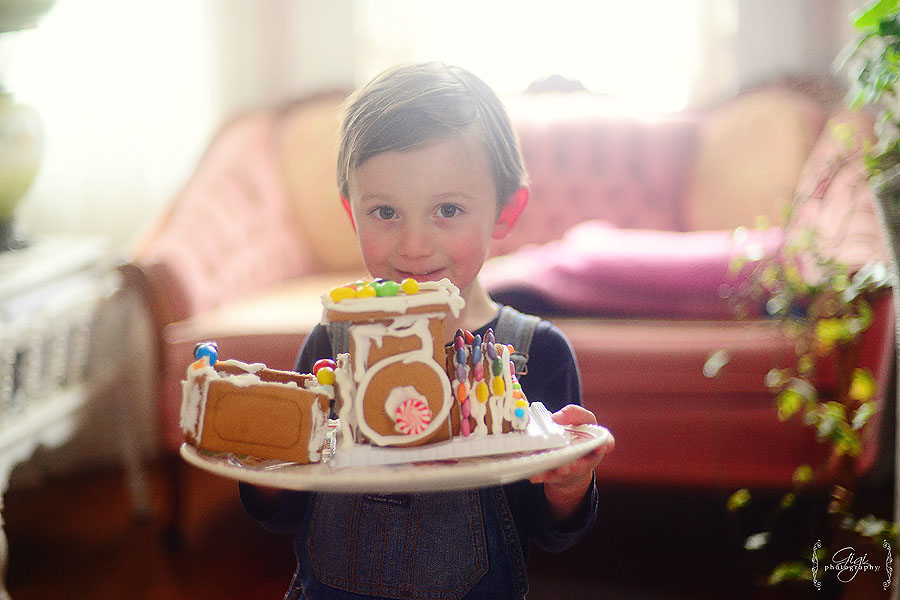 "Every home should be cheerful.
Innocent joy should rein in every heart.
There should be domestic amusements, fireside pleasures, quiet and simple it may be,
but such as shall make home happy,
and not leave it that irksome place
which will oblige the youthful spirit to look elsewhere for joy.
There are a thousand unobtrusive ways in which we may add to the cheerfulness of home."
-The Royal Path of Life