Well, obviously, we have been "Home Sweet Home" for a while now – but it took about two weeks for us to recover with all our extra chores, laundry, gardening, unpacking, etc. Amazing how much effort it takes to take a group of 10 people away for a week!
Despite the very long drive on the U.S. highways, a near border failure to cross into the United States and quite a few wrong turns … we had finally made it to the homeschool Family Camp in Iowa.  We had a fantastic time – the children loved every second of the week –  and our spirits and faith were refreshed. We come home with a desire to serve the Lord and study our Bible more faithfully and deeper. We already do devotions and read through the Bible, but this is a Living Word – and if you're not moving forward with your learning, you're moving backwards. There is not standing still in a Christian's life.
It's time to move forward and train our children in a deeper manner! Very inspiring!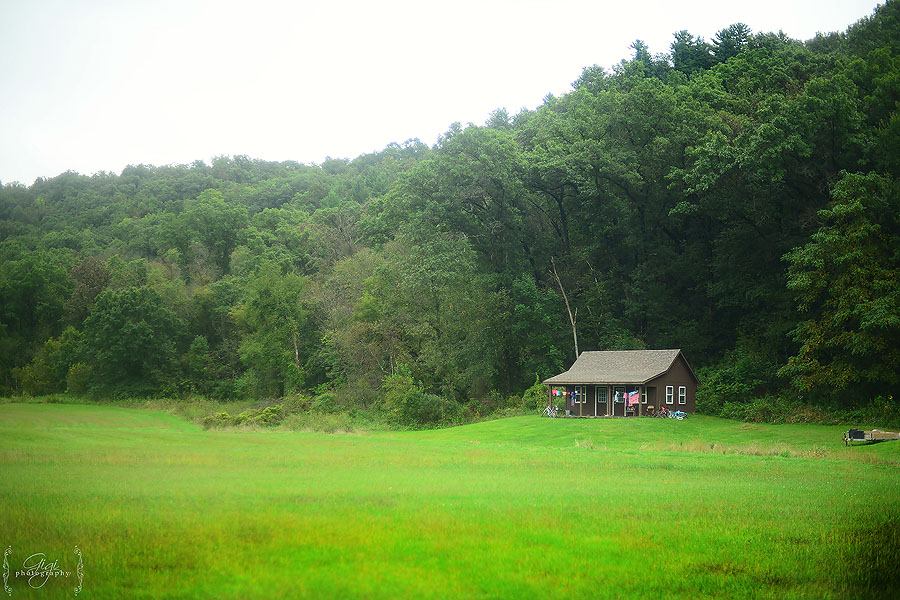 This is the little cabin our family slept in – snug and cozy in the Iowa hills. There were plenty of storms and rain but the Son still shone.
We are home now and ready for Autumn! It is in full swing now and I am in the middle of preserving and putting up beautiful apples, apple cider, apple pie filling and some more stews. I will be posting again soon.
It's been busy here on the home front as well – the internet was broken, our vehicle broke down a week ago (thanking God it did not break down on our road trip!), we had a birthday, an anniversary, guests from out of Canada visiting and started school full time.
Thank you for wishing us well and patiently awaiting an update. xo