"Life is made up of little things.
He who travels over a continent must go step by step.
He who writes books must do it sentence by sentence.
He who learns science must master it fact by fact .
What is happiness of our life made up of?
Little courtesies, little kindnesses, pleasant words, genial smiles, a friendly letter, good wishes – –
the little things make up our life every day and every hour.
If we make the little events of life beautiful and good,
then is the whole life full of beauty and goodness.
It is by studying the little things that we attain the great art of having
as little misery and as much happiness as possible."
-The Royal Path of Life, 1882
~~~~~~~~~~~~~~~~~~~~~~
"Mommeeeeeee ….. we FOUND him!"
The words echoed through the back mudroom, down the short dining room hallway and into the nearly clean kitchen … where one could find me preparing lunch for my hungry and energetic children. Following the voice in succession, muddy footprints soon tracked their way into the room where I was preparing the meal … the end of that dirty trail was an excited and rosy-cheeked little girl who wanted to share some important news with her mother.
"We FOUND the FROG! He's SO CUTE!"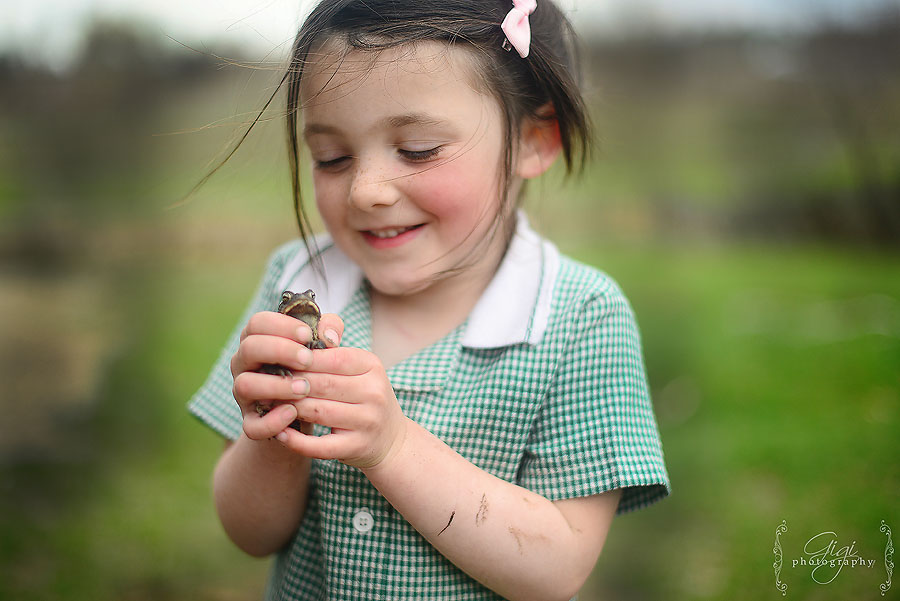 My youngest daughter appeared at the doorway, breathless with excitement, mud across one arm, both feet pasted with remnants of her muddy excursion of the spring morning … a big smile spreading across her face and her hands were raised in the air in triumph.
"Come see him, momma!"
She turned and quickly ran back out of the house … back screen door slamming as her dirty bare feet went flying back down the hill to the frog's paradise — a mucky location along the treeline in our yard, a perfect home indeed for Mr. Frog. I looked down at the once clean kitchen floor … yes, she was definitely leaving a muddy trail behind. I shuffled the thought of having to clean it again behind me  — isn't that my job, anyways? – and moved on to follow my little daughter outdoors.
Her older sister was proudly holding up their little fine catch to show their momma …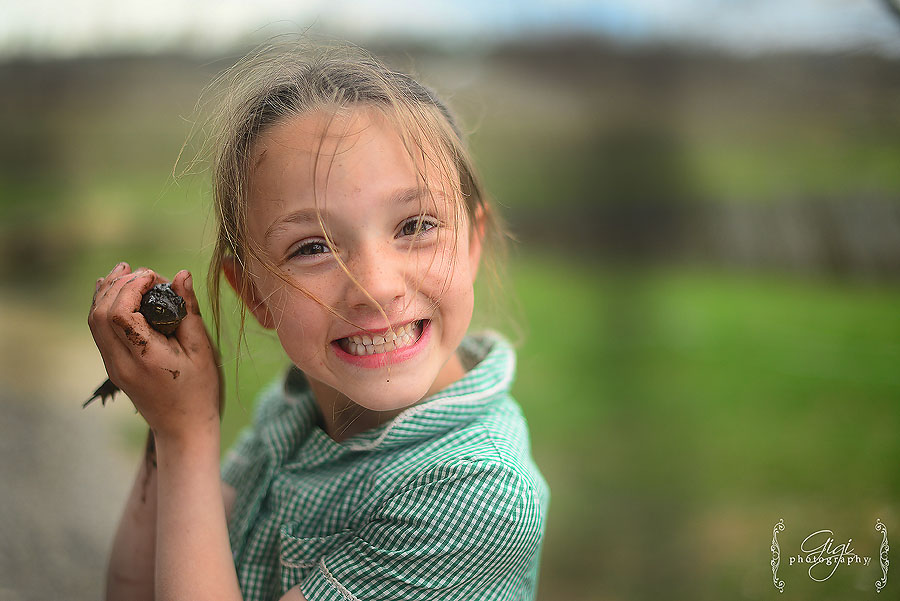 "My, he's beautiful!" I said, admiring the frog's lovely toes and long skinny legs. "Make sure you show your brother."
Being that our first son is now three years old, spring memories will be new and exciting yet again as he probably does not remember too many of last spring seasonal muddy moments.
The proud sisters gently showed their unsure brother their little animal treasure …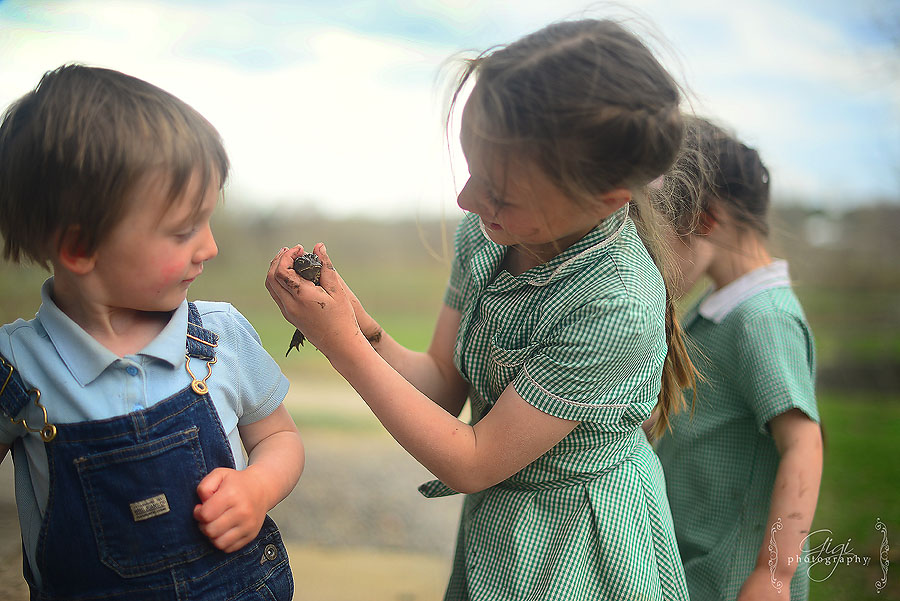 Their youngest brother is the most interested in creatures and is never intimidated about anything … he admired the treasured frog with great rapture …  it was a little moment, but it was memorable to these youngsters.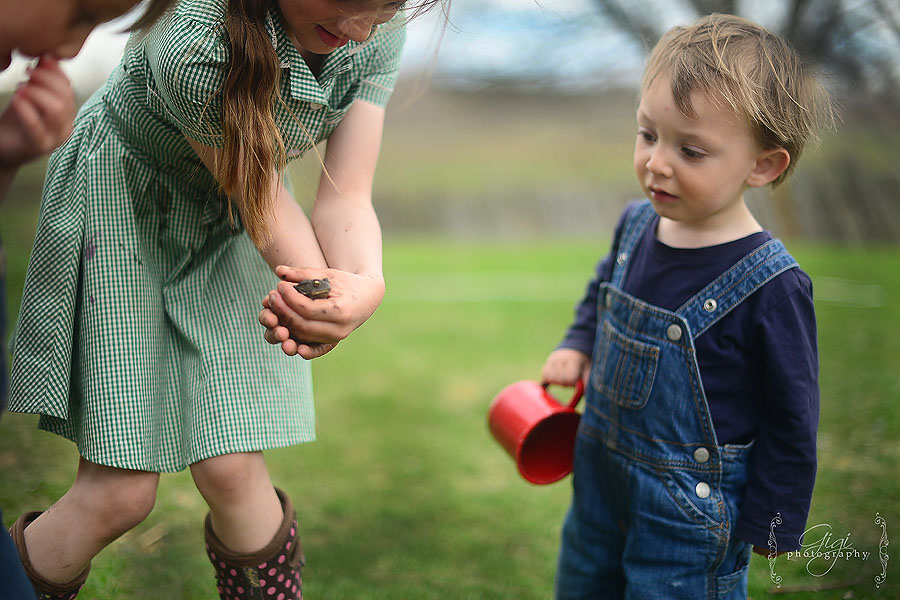 Later that day, the children & I  took a walk through the back field and found a dry spot to sit down together and read through our read-aloud book. We brought a basket of freshly baked muffins, which I passed out while reading our chapter, which just happened to be on the life of porcupines. Oddly enough, one of my daughters was walking through the fields earlier this day and happened upon a fat, healthy porcupine, plodding along the pathway. She watched it with awe as it  lumbered lazily up a tree upon their encounter — my daughter was able to stay and observe the funny creature  for a while as it settled into some branches for a nice long nap.
How lovely that God sent that prickly woodland creature her way! The perfect illustration to our book … I thought as we read through our pages on the porcupine.
Little details … but lovely ones …
Last week, we were driving home from the feed store and we happened to see a beautiful Large Blue Heron, wading along the flooded ditches of a roadway. We stopped the giant Gauthier bus and all stood on one side of the van to watch this lovely bird as he went about his business with slow, thoughtful steps, his sharp watchful eye looking for some tasty treat under the muddy waters.  Trucks, vans, busy cars passed us by but we kept our eyes locked on this great water bird as he carefully went about his steady business.
When we returned home, and picked up our School of the Woods book that afternoon, we were delighted and surprised to find out that our next chapter was on the Blue Heron – another good orchestration of God in our little minute details of our day. Amazing!
The following rainy day, we all piled back into our 'bus' and scouted out a good location to watch for the Blue Heron again at the same location. To our excitement, our long-legged bird friend had returned and we spent an hour reading our second chapter on the Blue Heron while the children watched the keen-eyed creature in his natural environment.
These little orchestrations of God's attention to what seems like small details in our tiny lives always amazes me.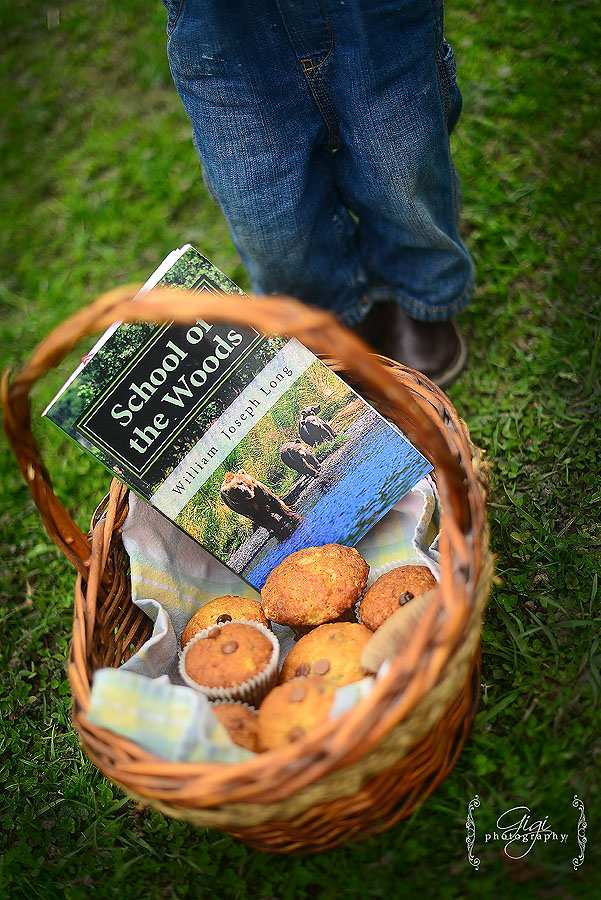 As the day ended, I called my children in to wash up when I noticed Loyal, only a year and a bit tucked under his life experience, watch with amazing attention the departure of a slinky mudworm as it wiggled it's way back into the moist earth. Loyal's eyes followed the worm's every movement … his fingers pointed to the direction of the wriggly creature … he called me over in the way one year old's call their mother … asking me to look, look at what he had found … he was absolutely amazed …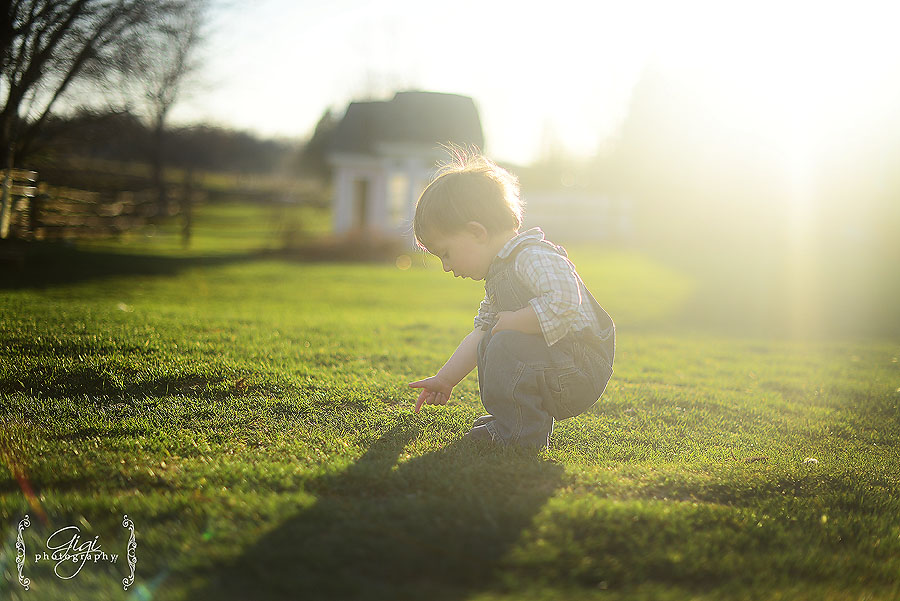 Such a tiny worm, no one else would have noticed except perhaps the fresh, keey eyes of a one year old boy.
Let us not despise the day of small things. My days are filled with small, minute details … I do not want to miss them in a hurried state or a frenzied rushing about attitude. My children are only little –and medium and somewhat big — once. No other job should fill my time like the job of motherhood and wife. Being here, with the children, for the little and tiny details, make my life full of beautiful, big memories.
"Little and often fills the purse.
Moments are the golden sands of time.
Every day is a little life; and our whole life is but a day repeated;
those, therefore, that lose a day, are dangerously prodigal; those that dare misspend it, desperate.
Springs are little things, but they are sources of large streams — a word, a look, a frown, all are little things,
but powerful for good or evil. Think of this, and mind the little things."
-The Royal Path of Life