A friend was over, dropping her children off to play for a while and, as the girls ran off to play in the summer heat, she quickly said "Avoid the sun, girls!"
She turned to me and explained how she had read how bad sunscreen is for your health and she was hesitant to put it on her daughters and was afraid of them burning. I smiled and said I completely understood -which is why we have been using our homemade sunscreen for two years now.
Grateful, she allowed her daughters to apply the homemade version of sunscreen on their faces while I quickly explained the recipe …
{We all know you should not burn your skin – however, having some sun exposure is important for many reasons.}
Once you have gathered the needed ingredients,  this sunscreen is very simple to make.
You will never need to buy store-bought sunscreen again for you or your family!
I have had the ingredients on hand for two summers now and have not needed to even buy more ingredients.
[So while it may seem a bit costly to purchase the few ingredients at first, know that you can use it for many other projects and remedies down the road.]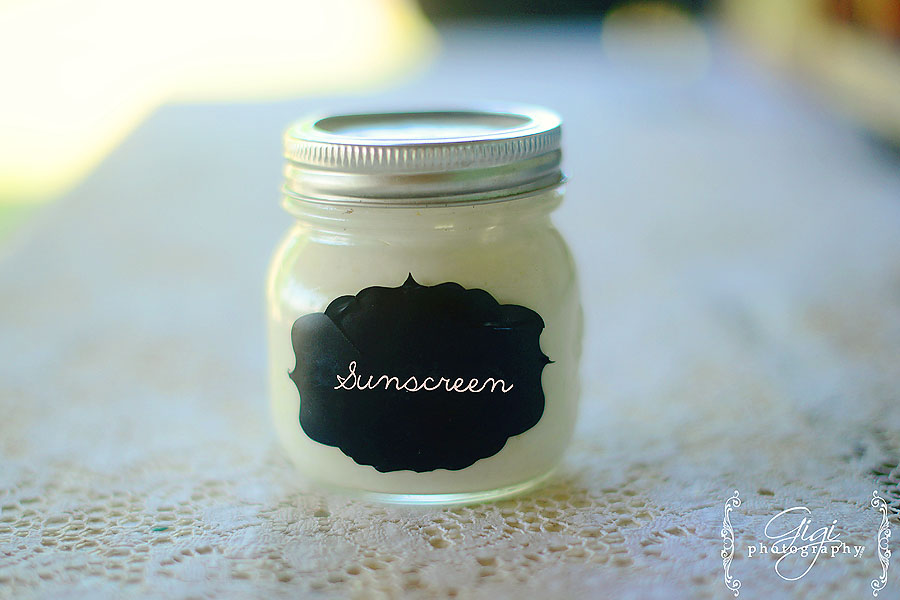 Your ingredient list for your safe homemade sunscreen lotion:
shea butter
beeswax
coconut oil
almond oil
carrot seed oil
non-nana zinc oxide
(red raspberry seed oil may also be used)
All together, there is an spf of about 15-20 (remember – sun is still needed for your skin! You still need some sunshine in your life). The more zinc oxide you use, the stronger the SPF will be, however.
Measure 1/4 cup of coconut oil, 1/4 cup of beeswax, two tablespoons of shea butter and 1/2 cup of almond oil into a glass bowl or large measuring cup, or even a mason jar.
In a double boiler, melt your oils together. When all are melted together, slowly add 2 tablespoons of zinc oxide powder (do not breathe it in) and your 10-15 drops of carrot seed oil.
Mix gently and you are done!
Store in a labeled mason jar and use all summer long. One small jar lasted us a whole summer last year. It stores fine on the counter, but if you are concerned about it melting, you may store in a cool location. Apply liberally before swimming and spending time in the sun. I would certainly apply more after swimming, as well, if the sun is still strong during the daytime.
Enjoy!